A volleyball victory
Girls volleyball wins their first state title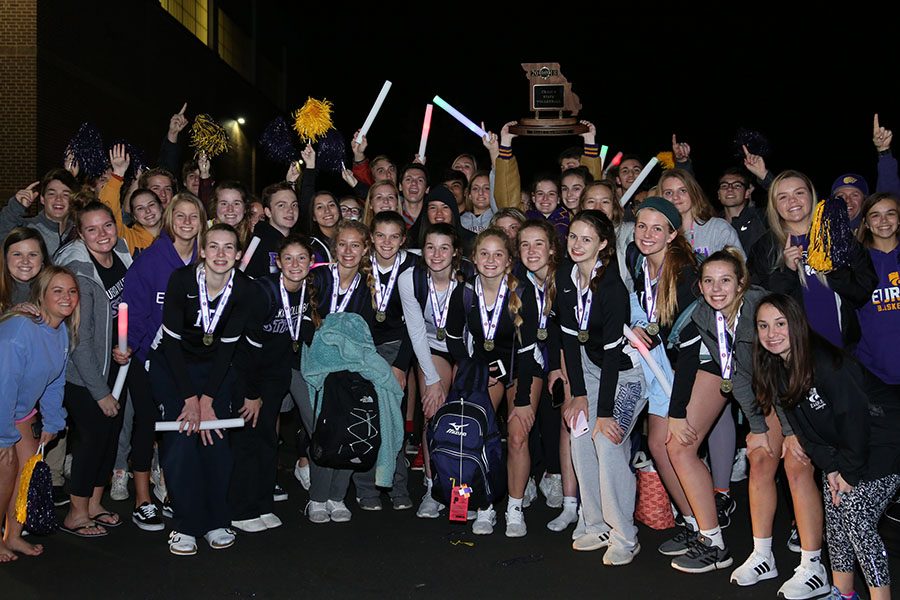 The varsity girls volleyball team won the Class 4 State Championship following a sweep of Lafayette High School, Nov. 3.
"It's a feeling I have been waiting to feel for all of high school," Regan Inglis, middle hitter, said. "It doesn't seem real."
Inglis had 11 kills during the championship game, but LHS kept the game close throughout the entirety of the series.
"You could tell throughout the whole game that we wanted it even more than Lafayette did," Alyce Koch, middle blocker, said. "It's really awesome."
The state championship is a first for Eureka girls volleyball. Their district championship was only their second district title. The team earned their first district title in 1996.
The game also marked the first time in Missouri history that two teams of the same school district took each other on for a girls volleyball championship.
Lafayette, who has played in seven of the last eight championship games, moved out of Eureka's district this season. Previously, Lafayette had eliminated Eureka in the last six postseasons.
EHS swept with St. Teresa's, 25-21 and 25-22, sending the Wildcats to the championship, Nov. 2.
"We wanted to come into this game fired up," Madison Scheer, outside hitter, said. "It was the closest we'd ever been to a state championship."
Scheer, the team's only freshman, had 12 kills during the Lafayette matchup, as well as the point that clinched the title.
"Going in being a freshman, it was intimidating," Scheer said. "I definitely thought I proved myself to them, and I think I did pretty well on the team."
Scheer certainly proved herself with 497 attacks and 201 kills in 70 games.
The Wildcats won boths sets against LHS, 25-23. Leading up to the championship, Eureka held a record of 30-8-3, while Lafayette held a record of 31-5-3.
"This season was all about growth," Inglis said. "Our team grew individually and as a whole. We have all come a very long way.
The EHS team came home to a celebration at EHS at 11:45 p.m., led by a police escort.
"It didn't hit me until the bus ride home," Koch said. "I didn't even think it was real."
The crowd of at least 100 who greeted them as they came off the bus certainly validated that very real win.
View Comments (2)
About the Contributors
Ethan Fine, Editor-in-Chief
This is Ethan's seventh semester on the News Production staff. In his free time, he enjoys taking photos, going to concerts and hanging out with his friends....
Grace Munton, Eurekana staff
Munton is serving her first year on the Eurekana staff. One word to describe her: "stubborn". Conversation she wants to have with the world: "Everyone...