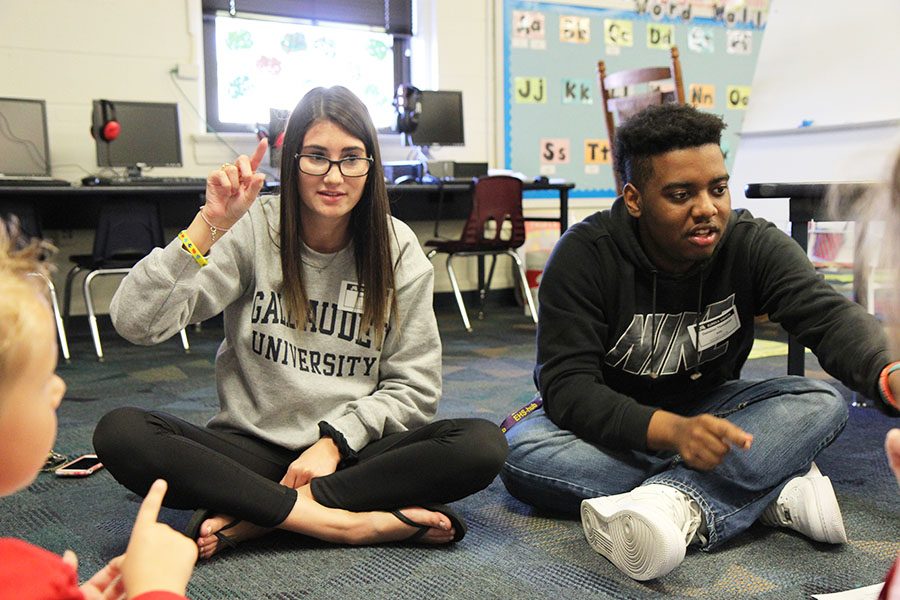 ASL
The popularity of American Sign Language is on the rise. The number of students who take ASL rose 50 percent in a decade.
ASL differs from other languages taught at EHS in that it is not spoken, but learning it provides access to deaf communities.
"I teach swim lessons," Alex DiPalma, ASL 2, said. "I had a deaf child in my lessons which was super awesome because I was able to connect with him and talk to him."
Connecting the hearing world to the hearing impaired world is one major way to make the world seem bigger.
"School is so much more than the academics," Bradley Klages, World Language Department supervisor, said. "It's creating kids to be great adults. That's a great skill to have."
ASL students have done their part to pass this skill on to the next generation by teaching ASL to children at Eureka Elementary School, Oct. 17.
"It was really cute," Maddie Nichols, ASL 2, said. "We got to see their reactions and watch them figure out the signs with their little fingers.
Children often have an easier time learning additional languages than teenagers and adults as the areas in the brain used for language acquisition are at their highest capacity at younger ages. Additionally, children are not as self-conscious as their elders, so they are not as afraid to make mistakes.
ASL is a relatively new language not founded until 1814, but its role in society has quickly established itself.
About 500,000 Americans use ASL as their natural language, but an additional 13 million have some sort of proficiency in sign language.
"I plan on using ASL for my career," Nichols said. "I want to become an elementary school teacher and there's a pretty good chance I will have deaf students so having sign language as a background will be very helpful."
We reached out to Julie Montgomery, ASL, but she has declined to comment.
The potential to connect with a new population and understand the people who use it is what language learning is all about.