Calling for action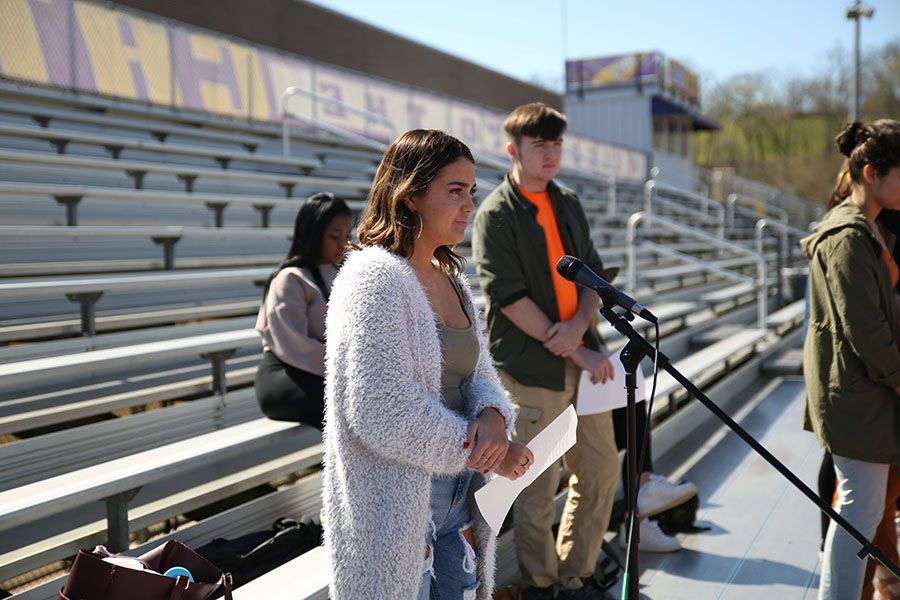 One hundred and nineteen students gathered on the football field at 10 a.m. as a part of a national protest against gun violence, April 20.
"One of our goals was to keep it positive," Grace Eickel, organizer, said. "We did what we came out to do and that was to educate people."
Students who chose to walk out will receive two lunch detentions if they missed a full hour or one lunch detention if they missed 30 minutes.
Students met in the Commons after third hour and walked out to the football field together. As students walked out, they chanted, "Hey hey! Ho ho! The violence has got to go."
Other students counter-protested by wearing pro-gun shirts, shouting pro-gun statements and taking photos and videos making fun of the students walking out. They put videos and pictures of the walkout on their social media accounts showing hate to the students participating in the walkout.
Once on the field, students stood on the turf holding signs as organizers and guest speakers stood on the bleachers and gave speeches. Those gathered observed a moment of silence for the victims that died in the Parkland, Florida school shooting.
"We really need awareness in these type of situations," Alisyne Hollowood, guest speaker, said. "I'm glad the students took all the information in without judgment."
Police and administration stood at the gates and doors surrounding the football field to ensure order.
"It was very peaceful," Charles Crouther, head principal, said. "It was what the students said they were going to do."
Throughout the speeches, organizers walked through the crowd of students and handed out papers with facts about gun violence, senators and gun laws.
Once all of the organizers and guest speakers finished their speeches, they were invited to go to various tables to register to vote, write letters to senators and sign petitions.
"It brought out some negatives in people," Eickel said. "They thought they could shut us down with a bunch of hate, but we are still here."
Attendance rates were lower, April 20. Routinely, EHS attendance is around 96 percent. Overall, only 84 percent attended school that day. Only 81.8 percent of freshman attended school last Friday.
Worries about tensions at school proved unfounded since the walkout occurred without incident. The first of the 119 students served their lunch detentions today.
View Comments (1)
About the Contributors
Sarah Bellamy, EHS-hub reporter
Bellamy is a reporter for the EHS-Hub. This is her second semester on staff. Her hobbies include painting and hanging out with her friends. Word that describes...
Regan Peterson, Managing Editor
This is Peterson's seventh semester on staff where she serves as the Managing Editor for both the Eurekana Yearbook and EHS-hub. Peterson enjoys sleeping,...