Opinion | Bona Fide | Astroworld Tour
A review of Travis Scott's Astroworld Tour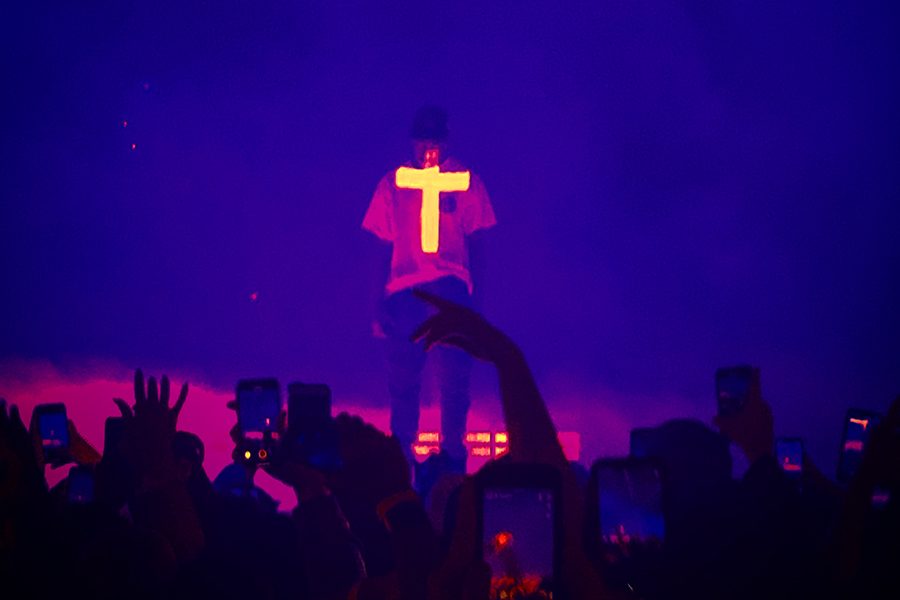 Travis Scott, the eventual second heir to the current throne of rap (only behind Drake) sold out the Enterprise Center, Feb. 18.
The crowd at a Travis Scott concert is unlike any other. Enterprise Center even had a sign up at the door that read:
"THIS IS A HIGH-ENERGY EVENT: By attending this event, you voluntarily assume all risks occurring before, during or after the event, including injury by any cause, and you release management, the facility, other participants, artists, their representatives and personnel, Live Nation, Ticketmaster, and their respective affiliates and representatives, from any related claims."
With that being noted, a Travis Scott concert is something one cannot completely prepare for without previous experience. His shows are HIGH octane and turned all the way up to 11. Hydration is highly recommended.
After a successful first leg of his tour (with almost every show sold out,) Travis Scott has become somewhat of a God in the rap community. Performing at perhaps the biggest show of the year across any media, Super Bowl LIII, Scott has created a huge following for his live performances.
Although his Super Bowl performance was subpar to say the least, his concerts are all his own mad creation of love and rage wrapped into one hour- and-a-half show.
Sheck Wes, the first and only opener of the night (Google: Mo Bamba,) is 15 minutes out and security comes into the pit to clean up urine off the floor. This is a Travis Scott concert.
A big issue I have with these concerts is the lack of respect for openers. Yes, everyone knows Sheck Wes because of "Mo Bamba" but to disregard his entire performance until the monumental hit played is ignorant.
Wes' debut album, "MUDBOY," was an original idea which is few and far between recently. He incorporated his hellish "Mo Bamba" style into a new blend of ingredients that works on "MUDBOY" more than it doesn't.
Wes performed his songs seamlessly with a voice that did not need autotune to rap his songs. Some fans on the floor completely disregarded his performance although he may have outdone Scott himself. That is, vocally.
Opening with "STARGAZING," Scott knew his fans' exact necessities they deserved out of his show. Immediately out of the gate Scott brings his all as he sings "Rollin, Rollin, Rollin got me Stargazing." If there was any slight fear of an overpowering crowd, those fears would be answered with a resounding "yes."
The best thing I saw all night, through the countless moshpits and smiling ragers, was an instant change from an almost moshpit to a throw of hands and love in the air as Scott quickly changed from "90210" to the incomparable "SKELETONS" as he sang, "Feels like slow motion, we're floating at the speed".
When it came to slowing down the rodeo for a brief moment, he beautifully illustrated his deeper and more human side to his madness. With tracks such as "SKELETONS," "ASTROTHUNDER," "R.I.P. SCREW," "90210" and "STOP TRYING TO BE GOD," Scott brought out the performer within him and his voice traveled with complete ease and comfort.
At times the autotune overpowered Scott's natural ability to sing, but nonetheless he still understood how to put on a show without a single back-up dancer or hype-man.
All in all, a Travis Scott concert is definitely worth the $150 price of admission and not one to miss. Although the performance was not for the weak, Scott can join the rage at night and come out and play even after being on the road for more than three months.
Leave a Comment
About the Contributor
Josh Margherita, EHS_hub opinions writer
This is Margherita's fifth semester on staff where he serves as an opinions writer for the EHS_hub. Marghertia enjoys discovering new music, traveling...