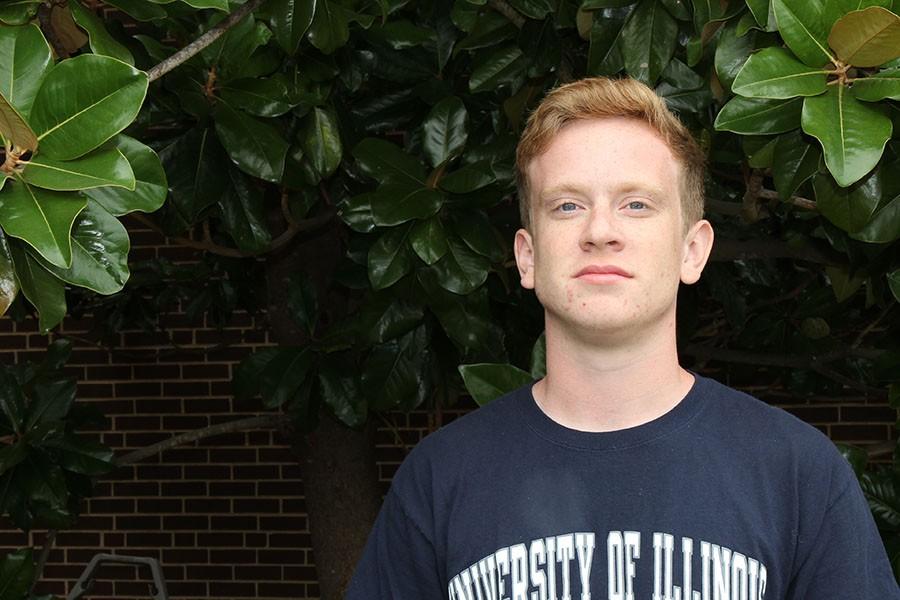 This is Drew's first year on staff. You can follow him on twitter @guiseEHS_hub.
His hobbies include drumming, playing guitar, and hitting dingers in dartball.
Outside of school he loves spending time with his friend Sam Oligschlaeger because he hopes his good looks rub off on him.
Drew's favorite food is Salt and Vinegar Lays.
His favorite song is "The Remedy."
A special talent that Drew has is that he can bend his pinky finger back to his wrist.
His favorite thing to watch on TV is Cardinals Baseball.
After high school he plans on living in a van down by the river, but if that plan falls through he plans on going to college and pursuing a career somewhere in sports, preferably baseball.
He wants to have a conversation with the world about why Donald Trump is going to be the greatest president in the history of the United States.
Drew Guise, EHS-hub Sports Writer
May 19, 2016

2016 senior columns: Leaving a mark: Drew Guise

(Story)

May 05, 2016

Boys Volleyball dominates Rockwood Summit

(Story)

Apr 28, 2016

Girls Lacrosse comes up short against Ladue

(Story)

Apr 22, 2016

Baseball trumps Patriots of Parkway South 6-1

(Story/Media)

Apr 08, 2016

Photos of the week: April 4-8

(Media)

Apr 07, 2016

Girls soccer shuts out Lindbergh

(Story)

Mar 02, 2016

Boys basketball season comes to a close

(Story)

Feb 22, 2016

Boys basketball takes down Fox

(Story)

Feb 18, 2016

Cats lose tough game to Hazelwood Central

(Story)

Feb 10, 2016
Feb 09, 2016

Too close to call

(Story/Media)

Feb 08, 2016

Wildcats offense erupts for 69 against Mehlville

(Story/Media)

Feb 05, 2016

Swimming wins final home meet for Coach Wasson

(Story/Media)

Feb 05, 2016

Photos of the week: Feb. 1-5

(Media)

Feb 04, 2016
Jan 19, 2016

Fresh faces: Emma DeCanti (9)

(Story)

Jan 15, 2016

Photos of the week: Jan. 11-15

(Media)

Jan 12, 2016

Basketball comes back from double digit deficit to beat Pacific

(Story)

Jan 07, 2016

Boys Basketball falls to Fort Zumwalt South

(Story)

Dec 10, 2015

Wildcats win tri-meet over Marquette and Mehlville

(Story)

Dec 02, 2015

Girls swim starts year with a win over Washington

(Story)

Nov 09, 2015

Football teams remarkable season ends with heartbreaking loss to Kirkwood

(Story)

Nov 04, 2015

Boys Soccer season ends with tough loss to Lafayette

(Story)

Oct 28, 2015

Wildcats stomp Seckman in first round of playoffs

(Story)

Oct 22, 2015
Oct 16, 2015

Girls Volleyball wins on senior night as playoffs approach

(Story)

Oct 12, 2015

Field hockey falls to Parkway South

(Story)

Oct 05, 2015

Wildcats beat Mustangs in homecoming game

(Story)

Oct 02, 2015

Senior women win powder puff

(Story)

Sep 21, 2015

Soccer wins on Senior Night

(Story)

Sep 11, 2015

Red card tops off a crazy night of soccer

(Story)

Sep 10, 2015

Volleyball shut out by Cor Jesu

(Story)

Sep 03, 2015

Field Hockey shuts out Notre Dame

(Story/Media)

Sep 02, 2015

Volleyball sweeps Pacific on all three levels

(Story)

Aug 31, 2015

Oakville falls after strong first half

(Story)

Aug 28, 2015

Wildcats oust De Smet in PK's

(Story)

Aug 27, 2015

Turning the page of a new playbook

(Story)

Aug 26, 2015

Wildcats win 4-0 over Cor Jesu

(Story)

Aug 26, 2015

Wildcats stomp Lafayette into new turf

(Story)