A new voting rule, pipe bombs and a president-elect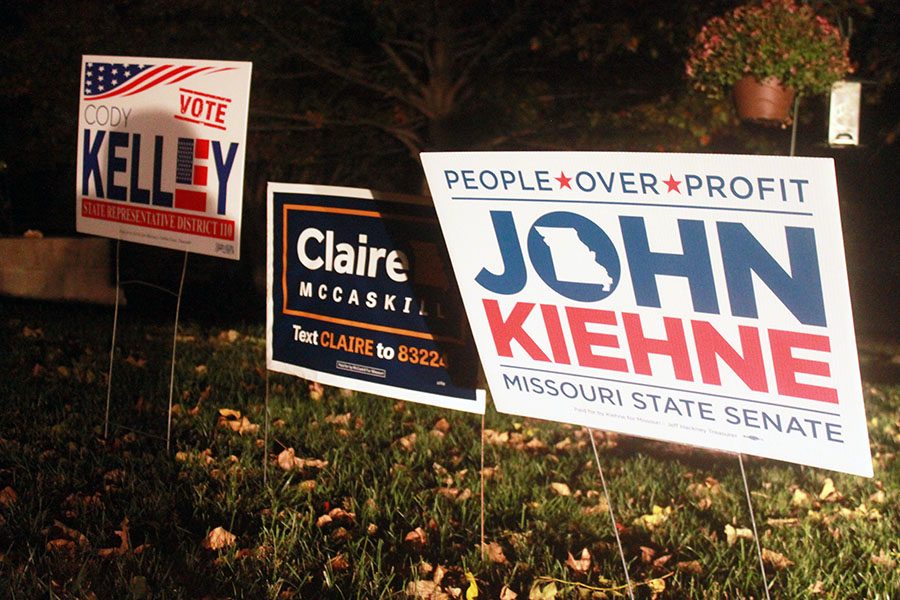 Local:
Know: Cole County Senior Judge Richard Callahan ruled that Missouri voters will not need to present a photo ID at polls, Oct. 23.
Inform: The recent ruling confirmed a previous ruling that Missouri voters who show up to the polls without photo identification will not have to sign off on an affidavit to vote, Oct. 10. The Missouri Supreme Court declined to overturn the ruling, Oct. 19. The former law required that those who attend polls without a valid photo ID can cast a ballot if they sign a statement swearing to their identity and present another form of identification. Voters without a photo ID used to be able to cast a provisional ballot and return to the poll with a photo ID to formally cast their vote. Sixty-three percent of Missouri voters approved adding a required photo ID at polls in November 2016. Callahan's ruling managed to keep all voting laws intact.
Care: The 2016 amendment that required photo IDs at Missouri polls made the state pay for three components: IDs for those who cannot afford them, documents needed to obtain an ID and advertising of the law. Secretary of State Jay Ashcroft projected that Missouri could advertise the changes and provide voters with IDs and documents for $1.4 million each year, while Department of Revenue and Department of Health and Senior Services estimated a cost of $7 million. Seventeen states currently require photo IDs for voting. Obtaining a valid photo ID can be an obstacle for voters and decrease voter turnout. Callahan's decision may raise voting turnouts as voters will not need to acquire certain identification beforehand. Students are aware of the struggle to get an ID, as license offices close by 6 p.m., not allowing much time after school or work to get an ID. Without the requirement of a photo ID, voters will not have to be concerned about getting a photo ID beforehand.
National:
Know: Federal authorities arrested Cesar Sayoc, a 56 year-old man from Florida for allegedly sending 14 pipe bombs to public figures across the country throughout the week of Oct. 22.
Inform: The first of the series of bombs that went undetonated was detected when an employee of billionaire George Soros intercepted a suspicious package, Oct. 22. Secret Service found a similar package, a pipe bomb addressed to Hillary and Bill Clinton, Oct. 23. The following day, Secret Service found another device intended for Barack Obama, Oct. 24. A pipe bomb found in the CNN mailroom intended for former CIA director John Brennan led to an evacuation of the Time Warner Center. A device intended for Eric Holder, former attorney general, ended up at Rep. Debbie Wasserman Schultz's office in Florida. The FBI found two pipe bombs addressed to Rep. Maxine Waters, one in California and one in Washington. Security personnel found a similar package sent to Robert DeNiro, as well as two additional pipe bombs sent to Joe Biden, Oct. 25. Senator Cory Booker, CNN's James Clapper, Senator Kamala Harris and Democratic donor Tom Steyer all received devices, Oct. 26.
Care: If convicted, Sayoc will face up to 48 years in prison for the series of bombs. Each of the recipients has been traced back as being either a Democrat or a supporter of the Democratic party. Not only did the FBI take Sayoc into custody, but they also towed away his van, which had been covered in photos of President Donald Trump and Vice President Mike Pence. Sayoc has arrest records going back to 1991 with charges varying from theft to bomb threats. The bombs contribute to an increased level of tension and hostility in the U.S., as the FBI reports an upward trend on violent crimes. The violent crime increase has also led to a larger sense of insecurity and uncertainty in the everyday life of a U.S. citizen.
International:
Know: Jair Bolsonaro won the Brazilian presidency, Oct. 28.
Inform: Former army captain and far-right congressman Bolsonaro won the election with 55.4 percent of the votes. Going into the final election, Bolsonaro led the election with 46 percent following the first round of votes, Oct. 7. Bolsonaro will replace Michel Temer, who filled the presidency after the Senate impeached Dilma Rousseff, suspending her from the seat in 2016. The president-elect will enter in the midst of a four-year criminal investigation on the country. Operation Car Wash, a massive government scandal has led to the imprisonment of top officials and billions of dollars in fines. The scandal began when the Finance Ministry uncovered unusual transactions between the state-owned oil firm and a major construction company. The transactions led to an investigation, which would expose 12 countries had been involved with bribes from Brazil and result in over 100,000 Brazilians losing their jobs. As the investigation went on, more than 200 convictions from drug trafficking to money laundering popped up.
Care: An unidentified person lunged toward Bolsonaro and stabbed him at a campaign event, Sept. 6. Flavio Bolsonaro, Jair's son, took to Twitter to announce the seriousness of the injury. Jair Bolsonaro has come under fire for his controversial remarks, which include telling a lawmaker she was "too ugly" to rape, saying he is "in favor of dictatorship" and lashing out against black citizens and members of the LGBT+ community. Jair Bolsonaro has earned himself the nickname "Trump of the Tropics" based on his offensive comments and far-right goals. Bolsonaro will take office Jan. 1, 2019. As Jair Bolsonaro's nationalist views settle in, Brazil becomes apart of the growing list of democracies overtaken by radical nationalism. This nationalism poses questions of what defines true origin and who is a natural citizen.
Leave a Comment
About the Contributor
Ethan Fine, Editor-in-Chief
This is Ethan's seventh semester on the News Production staff. In his free time, he enjoys taking photos, going to concerts and hanging out with his friends....