Opinion | Bona Fide | "Reputation"
A review of Taylor Swift's "Reputation"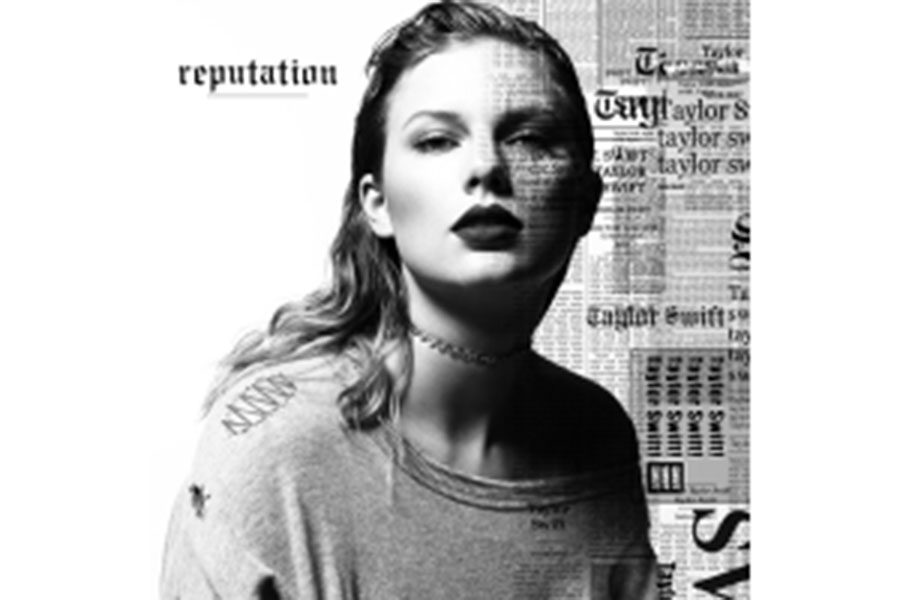 Where have you been, Taylor Swift? Every fan's question is answered with Swift's latest album "Reputation."
Swift had left the limelight, a hiatus if you will, for a few months in the middle of 2017. It all leads back to her long-standing feud with Kanye West. From his interruption of her acceptance speech at the 2009 VMA's to the line in his song "Famous" from his 2016 album "The Life of Pablo," their feud has spanned close to a decade.
So why her sudden disappearance? "I feel like me and Taylor might still have sex/Why? I made that b**** famous" is the controversial quote from Kanye West's song "Famous." This lyric led to a he-said/she-said argument between Kanye West, Swift and even West's wife Kim Kardashian West.
To everyone's surprise, Swift claimed West never asked for her permission or let her listen to the song before the release, but Kim Kardashian West released a voice recording of Swift specifically complimenting West on the lyric giving her full approval.
The situation with Kanye West left her fans waiting for what was next. "Reputation" is Swift's attempt to reinvent herself and rise up from her "bad reputation" left from the everlasting Kanye dispute.
Swift begins the 56-minute album with "Ready For It," a fierce opener to an overall underwhelming album. Reputation was meant to be a strong return to society and the public eye for Swift as she sings in "Look What You Made Me Do":
"I'm sorry, the old Taylor can't come to the phone right now. Why? Oh! 'Cause she's dead!"
In all reality, Swift sticks to the love-story appeal in which she sings of how perfect her new love can be.
While this album includes a couple diss tracks and lyrics in which she attempts to assert her independence, Swift still relies on the songwriting that made her.
Contradictions are strong within the album as Swift cannot seem to make up her mind on who she wants to be. "I Did Something Bad" illustrates Taylor's rebellious side in which she claims, "They say I did something bad. Then why's it feel so good?" Then in 11 out of 14 of her songs, she clamors to her new love in which she would seemingly be in dire remorse without.
She transfers from "I've been breaking hearts a long time/and toying with them older guys" to "And baby, for you/I would fall from grace just to touch your face/if you walk away/I'd beg you on my knees to stay" in the same song: "Don't Blame Me." While this song is one of the stronger on the album musically, Swift still cannot seem to grasp herself. She claims to be a new Taylor, when all-in-all it's the same Taylor we've all come to know and love with her optimistic love songs.
Swift has not only tried to reestablish her image but has changed the style of her music for the worse in doing so. Techno pop that almost reaches for the style of dubstep replaces her previous country/pop genre. Swift's new take on production does not help her album; in fact, the "fresh" take on her style weakens what could have been another American classic.
Her latest attempt to create music changing with the times feels outdated and lacks the strong energy of her previous projects. The production quality is of the standard's of DJ Khaled, a cheesy attempt to create music that connects with the ever-growing domination of rap but falls flat 90 percent of the time.
Not only does the production clearly suffer, but the continuous use of insecure love songs contradicts who she was supposed to become of this new album, "Reputation." Nearly every song on the album fails to portray her new persona except for a select few including:
"I Did Something Bad," the first and one of the few songs asserting her new-found dominance.

"Look at What You Made Me Do" and "This is Why We Can't Have Nice Things," both diss Kanye West showing her raw emotion on the situation.

"Getaway Car", which in fact illustrates Swift's independence from males as she turns her partner in crime into the police.
Then again, those are the only four songs fully proving to the fans who the new Taylor is, while every other song is of her obsession with her new male partner Joe Alwyn.
"I want to wear his initial on a chain 'round my neck/not because he owns me/but 'cause he really knows me/which is more than I can say" she proclaims in "Call it What You Want," as she contradicts who she is portraying her stronger and more independent self to be. The album is full of such moments leaving the audience without a sense of what Swift is trying to create with "Reputation."
Although most of "Reputation" falls flat without much direction, there is a diamond in the rough. "New Year's Day," the final song on the album, ends "Reputation" beautifully with an organic piano-based song.
In "New Year's Day," she simplifies what she could not throughout the whole album and creates a truly honest and beautiful song. "Please don't ever become a stranger/whose laugh I could recognize anywhere/and I will hold onto you" ends the album.
Overall, "Reputation" disappoints the expectations fans have of Swift at this point in her career. Although "New Year's Day" proves she still has the ability to write beautiful music, the entirety of "Reputation" cannot save itself from lack of direction, stance and who Swift is trying to portray as her "new" self.
Leave a Comment
About the Contributor
Josh Margherita, EHS_hub opinions writer
This is Margherita's fifth semester on staff where he serves as an opinions writer for the EHS_hub. Marghertia enjoys discovering new music, traveling...