Opinion | Bona Fide | "SATURATION III"
A Review of BROCKHAMPTON's "SATURATION III"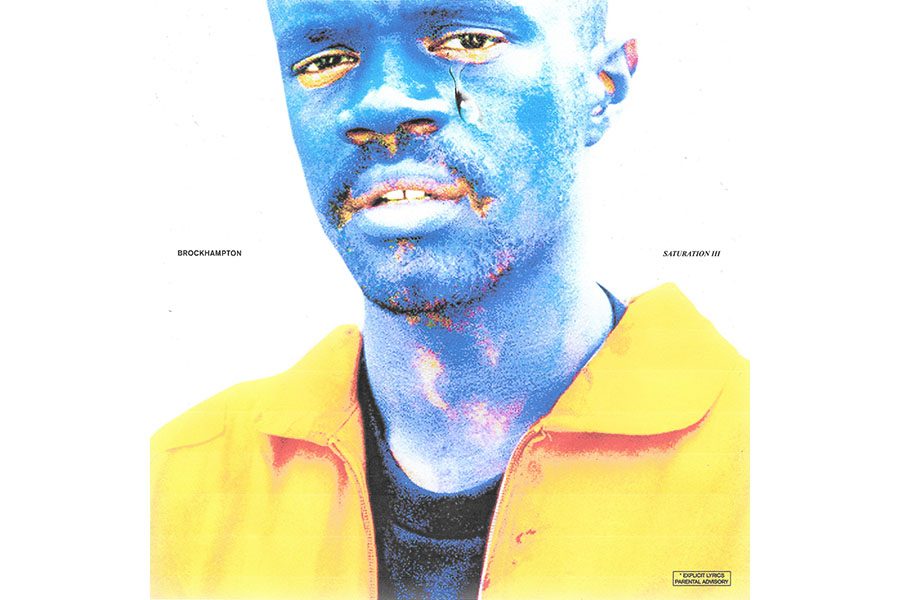 "The internet's first biggest boy band", BROCKHAMPTON defies the boy-band genre creating a group of interlinked rappers that have the perfect chemistry.
Ian "Kevin Abstract" Simpson, Ameer Van, William Andoh "Merlyn" Wood, Dominique "Dom McLennon" Simpson, Matt Champion, Russell "JOBA" Boring and Ciarán "bearface" McDonald are all the vocalists for BROCKHAMPTON. Not including the seven other members behind the scenes.
They call themselves a boy band because it allows them infinite creativity rather than being a rap-collective, which would then limit them to a genre that is played out.
BROCKHAMPTON released the entire "SATURATION" trilogy throughout 2017 with "SATURATION" releasing, June 9; "SATURATION II" releasing, Aug. 25; and their most artistically-mastered album to date "SATURATION III" releasing, Dec. 15.
"SATURATION III" continues the theme of its predecessors: life, fears, desires, insecurities and–most of all–memories. The album not only continues the story of BROCKHAMPTON, but it dives deeper into the members' struggles and dreams as band members confront their growing fame and fortune.
"JOHNNY," the deepest track on the album, sheds light on the group's fears and desires orbiting within their headspace even though they've already "made it."
"Could've peaked when I was in high school but I had bigger plans/Could've took the time out to find you but you ain't understand/You gotta leave for them to define you/'Cause what could you demand/When everybody out to define you without a circumstance?"
Simpson reveals personal wisdom and pictures his life lessons through these lyrics. "JOHNNY" is the most lyrically-sensitive track on "SATURATION III" as JOBA cannot even listen to his own verse casually because of the power of its truth.
"I have a couple vices, we had that show on Viceland/I was hardly in it, most the time I'm hidden/Anxious, impatient and always wanting something different/I hate the way I'm feeling, I'm sick of chasing feelings"
"SATURATION III" is fearless and when I say fearless I mean full unhinged honesty, beauty and wisdom all wrapped into a 46-minute album. BROCKHAMPTON is a tour de force defying evolutionizing the rap genre to something greater.
Every member stands out and showcases who they are, where they came from and an overall journey into the melancholy minds of this boy band. They collaborate so completely that no single member's strength outshines nor weakness undermines their creation. It all just works.
Crafted so carefully, "STUPID," "BLEACH" and "ALASKA" all standout showcasing the rawest form of BROCKHAMPTON with lyrics that wholly complement their production leaving fans with a powerful mini-trilogy.
In "SATURATION III," BROCKHAMPTON once again illustrates the wisdom of their adoption of the boy-band label. Genre-changing tracks such as "HOTTIE" and "TEAM" create an alternative sound through killer verses while keeping a modern-day production.
"How could I be better?/I paid the price in full, just to clear the record/Rewound just to fast forward/On the eight track, I stole from my grandmama"
"TEAM," the final track on "SATURATION III," transitions from a beautiful farewell ballad of love into a unwavering scrutiny of politics and society. The trilogy ends on a note of unfinished business leaving fans of the boy band with an assurance of return.
While the album is melancholic and modernized hipster rap–if you will–it is not without its optimism and courage. This LP brings forth this group of talented artists, lyrically and musically, to greater horizons within their foreseeable future.
SATURATION III is a piece of art demanding attention as the 14-member group raps through their trials and tribulations paving the way for optimism and greater things to come.
Check out BROCKHAMPTON at The Pageant, Feb. 20.
Leave a Comment
About the Contributor
Josh Margherita, EHS_hub opinions writer
This is Margherita's fifth semester on staff where he serves as an opinions writer for the EHS_hub. Marghertia enjoys discovering new music, traveling...