Opinion | Bona Fide | "Little Dark Age"
A Review of MGMT's "Little Dark Age"
In 2007, MGMT took the world on a psychedelic-alternative journey as they created "Oracular Spectacular" within their college dorm room at Wesleyan University.
A surprise to all, including themselves, "Oracular Spectacular" brought something new to the table of played out festival-circuit bands and summer vibes.
But like most groups, MGMT tried to reinvent themselves… twice. On their 2010 release of "Congratulations" and their self-titled 2013 release "MGMT" they threw away what the world loved about them and completely disregarded who they were.
With their two releases after "Oracular Spectacular," the group completely transformed their style. They hid their pop roots and tried something new, which does not always work. But hey, if it aint broke don't fix it, right?
Eleven years since their debut, they reemerge with "Little Dark Age," a return to form for this Connecticut-based duo.
"Little Dark Age" pays homage to 80s synth while keeping their music fresh. Although MGMT once again reimagines themselves, they do it in a way that stays true to who they once were: a band you can vibe to with a psychedelic core.
From the opening track "She Works Out Too Much," MGMT lays down what is in store–psychedelia synth pop. It feels like the beginning of a classic 80s workout with routine ad libs for the listening audience.
The first self-titled single for the album, "Little Dark Age," is a gothic tale that grabs the listener with an extremely catchy chorus and production but somewhat lacks in the lyrical bridge between choruses.
"Policemen swear to God/Love's seeping from the guns/I know my friends and I/Would probably turn and run/If you get out of bed/Come find us heading for the bridge/Bring a stone, all the rage/My little dark age."
"Little Dark Age" is not without its political and social relevance. "TSLAMP" (Time Spent Looking at my Phone) turns its focus on society's addiction to their cell phones and how that addiction has changed how everything works exponentially.
"Last thing that you need/Is the new shiny feature/All the memories you've shared/Developed by perverted creatures/Nothing can compete/With the first time you saw her passing strangers on the street/Spending every moment looking at their phones."
Presently, life is being lived through a screen and without life experience there is an ignorance to the beauty of life itself.
"Hand it Over," the final track on "Little Dark Age," brings an end to the pessimistic yet euphoric album. President Trump is put into the equation as he somewhat influenced a portion of the tracks on "Little Dark Age."
"The joke's worn thin, the king stepped in/Now we'll see who is who/Look who's bending over."
Although strong and poetic, MGMT seems to be more in the headspace of their new-found sound rather than keeping in touch with the lyrics.
MGMT's biggest weakness within "Little Dark Age" is their lyrical sense. The lyrics written attempt to be poetic but fall short of greatness.
They've brought back the catchy choruses missing in their previous two albums, but everything else seems to be a let down. The focus is more on the synth-psychedelia aspect of the production by David Fridmann, producer of The Flaming Lips and Spoon, rather than timely lyrics.
Don't get me wrong, MGMT has created an album that delivers on bringing the band back to the limelight. Six years have passed since their last album, but the lyrics of "Little Dark Age" don't reflect an investment of that time.
Although MGMT's latest outing is a minor disappointment, catchy tracks like "Little Dark Age," "When You Die," "One Thing Left to Try" and "Hand it Over" will satisfy fans for 44 minutes.
Check out MGMT at the Peabody Opera House, March 5.
Leave a Comment
About the Contributor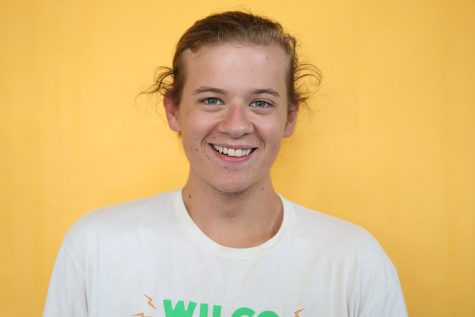 Josh Margherita, EHS_hub opinions writer
This is Margherita's fifth semester on staff where he serves as an opinions writer for the EHS_hub. Marghertia enjoys discovering new music, traveling...