Opinion | Bona Fide | "Black Panther: The Album"
A Review of "Black Panther: The Album" curated by Kendrick Lamar
A worldwide phenomenon, "Black Panther" has changed the game for cinema and soundtracks alike.
The first of its kind, "Black Panther" has been breaking and setting records for all across the world. The film is a sign of cultural change as it is the first big-budget film produced by, written by, directed by and starring African-Americans.
Garnering over $200 million in its opening weekend, "Black Panther" has already broken multiple records:
Largest February Opening Weekend

Largest Winter Season Opening Weekend

Largest President's Day Weekend Opening

Largest Monday

Largest Thursday Preview Gross In The Month Of February
Besides the fact Marvel produced a fantastic film–which I implore everyone to see–this is a review for "Black Panther: The Album," which is just as clever and well written as the film it is based upon.
Never before has a soundtrack complemented a film so effortlessly and independently. "Black Panther: The Album" tells a story of its own with Wakandan roots and a galore of features that will manage to please most modern-day rap/R&B fans.
With writing and production credits on all 14 tracks, Kendrick Lamar is a headlight on a northbound train that is not stopping anytime soon. He implements his unique creativity within all 14 tracks creating an album that does not let up until all 49 minutes are played.
From the opening self-titled track, "Black Panther," Lamar sets the grand stage for a musical trip into the world of Wakanda.
"What do you stand for?/Are you a activist? What are your city plans for?/Are you an accident? Are you just in the way?/Your native tongue contradictin' what your body language say."
My expectations for a soundtrack to a Marvel film were low. Most soundtracks have the titular track that stands the test of time and is still anthemed today without any memory of the other songs on the soundtrack. Whether it be Ray Parker Jr.'s "Ghostbusters" or Huey Lewis and The News' "Power of Love," those tracks are world renowned and cherished, but the rest of the albums are long forgotten.
"Black Panther: The Album" changes the game in that sense, as the album as a whole strongly stands its ground. Although there will be a few tracks that will most likely be forgotten, the album does not rely itself on the sales of one song.
The record also shed its light on its unknowns and underground artists, illustrating their best.
"All the Stars," the leading single of the album, conveys the strength of Lamar and SZA's collaboration. Although the poppiest song on the LP, "All the Stars" is a huge step forward for SZA and another hit for Lamar.
The album is not without its heavy-hitting rhymes and tracks that will make any driver turn the volume all the way up, including:
My personal favorite "Opps" introduces a adrenaline-fueled production that is a scene stealer when used in the film. The song displays Lamar's wide range of production abilities, creating intensity in its finest musical form. "Opps" also brings hidden gem Vince Staples to a mainstream audience.
Lamar also reteams with Travis Scott ("Goosebumps") for "Big Shot," exhibiting yet another successful pairing of the talented duo.
"Black Panther: The Album" also incorporates diversity within its tracks, as they convey important themes while also interweaving head-banging tracks.
"I Am," "Seasons" and "Pray For Me" are the most profound tracks on the album, covering hardships and topics that wouldn't otherwise be heard.
"I fight the world, I fight you, I fight myself/I fight God, just tell me how many burdens left/I fight pain and hurricanes, today I wept/I'm tryna fight back tears, flood on my doorsteps/Life a livin' hell, puddles of blood in the streets/Shooters on top of the building, government aid ain't relief/Earthquake, the body drop, the ground breaks/The poor run with smoke lungs and Scarface/Who need a hero? (Hero)/You need a hero, look in the mirror, there go your hero/Who on the front lines at ground zero? (Hero)/My heart don't skip a beat, even when hard times bumps the needle/Mass destruction and mass corruption/The souls of sufferin' men/Clutchin' on deaf ears again, rapture is comin'/It's all prophecy and if I gotta be sacrificed for the greater good/Then that's what it gotta be."
"Pray For Me" manifests what is wrong with the U.S. as Lamar and The Weeknd speak from their souls and voice what they believe.
Strongly put without letting up, "Black Panther: The Album" increases Lamar's repertoire and musical diversity while also creating strong introductions for lesser known artists. "Black Panther: The Album" stands on its own from the film but keeps true to its Wakandan roots where citizens are born warriors who spends their days honing their skills so they can remain strong and independent.
This album is a piece of art.
Leave a Comment
About the Contributor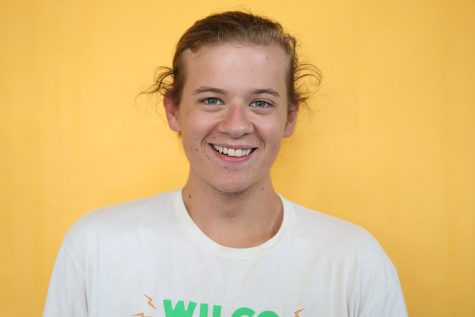 Josh Margherita, EHS_hub opinions writer
This is Margherita's fifth semester on staff where he serves as an opinions writer for the EHS_hub. Marghertia enjoys discovering new music, traveling...