Opinion | Bona Fide | "Punch Drunk Love"
A review of Paul Thomas Anderson's "Punch Drunk Love"
WARNING: "Punch-Drunk Love" is rated R by the MPAA for strong language including a scene of sexual dialogue.
A film starring Adam Sandler that was not critically bashed. Actually quite the opposite, which begs the question… Can Adam Sandler truly act? Well in "Punch-Drunk Love," he surely gives his best performance of all time.
"Punch-Drunk Love" follows Barry Egan (Adam Sandler), a self-doubting salesman who hates his life and himself. He's trapped in his mind and–like most of us–he cannot move on or prosper in his life as his personal demons limit him. Egan's insecurities from his upbringing and doubts within himself weigh him down and curb his ability to move on and be himself.
Mentally tormented by his seven overbearing sisters, Egan is a closed-off introvert who is looking to escape normality but just doesn't quite know how.
His sisters invite him to family gatherings and parties in order to draw him out into the world, but he wants to be alone and connected to people at the same time leaving him conflicted his very nature.
Barry: "I wanted to ask you something because you're a doctor, right?"
Walter: "Yeah."
Barry: "I don't like myself sometimes. Can you help me?"
Walter: "Barry, I'm a dentist. What kind of help do you think I can give you?"
Bary: "I know. Maybe you know other doctors?"
Walter: "Like a psychiatrist?"
Barry: "I just don't have anybody else I can talk to about things… and I understand it's confidential with a doctor. And I just–I don't want my sisters to know, okay? Because I'm embarrassed about this."
Walter: "If it's about getting you a phone number for a psychiatrist… I can do that. It's not a problem. But what exactly is wrong?"
Barry: "I don't know if there's anything wrong… because I don't know how other people are. I sometimes cry a lot… for no reason. (Begins crying) I'm sorry."
Written and directed by Paul Thomas Anderson–who has mastered the art of filmmaking through masterpieces such as "Boogie Nights," "There Will Be Blood" and "The Master"– "Punch-Drunk Love" is a mesmerizing character piece that gives audiences a look inside the introvert and how they live day-to-day.
A dark-comedy drama, "Punch-Drunk Love" brings out the best of Sandler the persona and performer to create one of the most human performances put to screen.
Before "Punch-Drunk Love," Sandler was an "Saturday Night Live" prodigy. Starring in mostly slapstick/toilet humor films–"Billy Madison," "Happy Gilmore," etc.–Sandler's acting chops had never really been put to the test before the production of "Punch-Drunk Love."
But man-oh-man does Sandler prove himself as an actor in "Punch-Drunk Love." Sandler does not change himself for the role, rather he evolves his skills while keeping true to himself. He balances his classic roid-rage humor with the demons of being an introverted, depressed man.
The eccentricity of "Punch-Drunk Love" is crafted so effortlessly by Anderson. He uses film techniques that create a feeling of "I've never seen that before." The style crafts more questions than answers but in a way that makes it seem alright.
For example, the film opens with Egan conversing on the phone about the huge potential payoff of buying pudding cups in return for frequent flyer miles. Then he steps outside to witness a car crash, and a taxi cab drops off a harmonium (a small piano-type instrument) seconds later.
It is unconventional scenes like this paired with deeply-realistic themes as to why "Punch-Drunk Love" stands out from the rest. Although it is Anderson's shortest film to date–clocking in at 95 minutes–"Punch-Drunk Love" is the beautiful oddity of his filmography.
The development of Sandler's character is truly moving and is the deepest performance of his career, illustrating perfectly the mind of a man that is nothing and has nothing for which change.
But before ANYONE says Adam Sandler can't act, go watch "Punch-Drunk Love" and get ready to be proven wrong.
He gives his best performance of all time, and Anderson delivers one of his simplest yet deepest character pieces to date.
"Punch-Drunk Love" is something never seen before. This cannot be stressed enough. The unorthodox formula and methods of storytelling used throughout the film are a breath of fresh air.
The intertwining of the beautiful cinematography, gripping score and whacky script is so out-of-the-ordinary that audiences may be turned away.
Barry: "I have a love in my life. It makes me stronger than anything you can imagine."
Seeing the film made me open to something out of this world. I learned something for myself and the heartbroken voiceless around me. Watch "Punch-Drunk Love."
Check out "Punch-Drunk Love" on Decider to find the perfect streaming service.
Leave a Comment
About the Contributor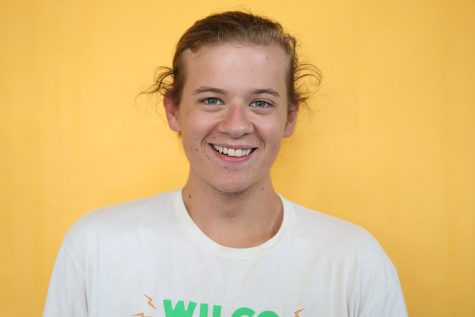 Josh Margherita, EHS_hub opinions writer
This is Margherita's fifth semester on staff where he serves as an opinions writer for the EHS_hub. Marghertia enjoys discovering new music, traveling...