Opinion | Bona Fide | "Flower Boy"
A review of Tyler, the Creator's "Flower Boy"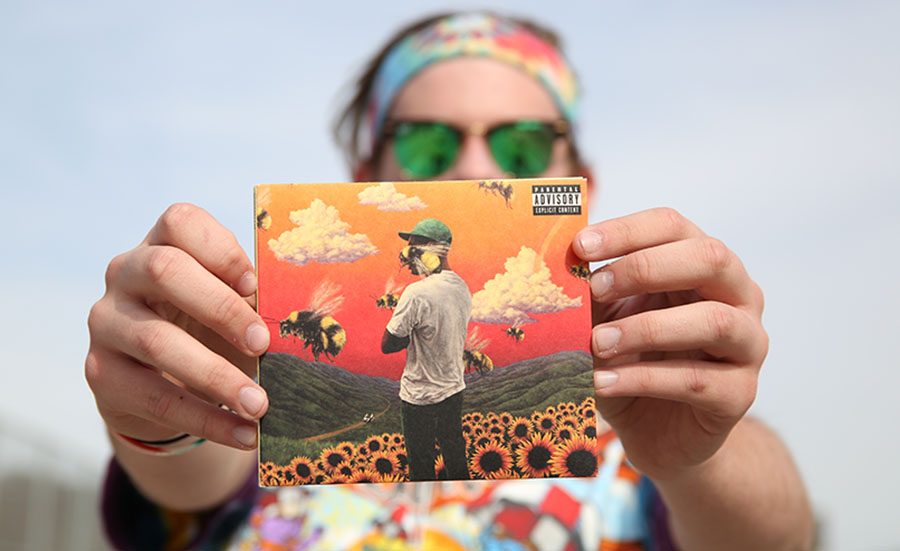 Well folks, it's a slow release week for music and with those weeks come my reviews of modern-day classics in which I explain to you why these albums will stand the test of time.
For my first modern-day classic, I will be reviewing Tyler, the Creator's "Flower Boy," (2017) a deep cut into the life of the California-based rapper in which he lets his guard down and gets 100 percent real with his fans in a way that has never been accomplished before.
I was never a huge Tyler, the Creator fan. His work never crossed my musical influences at the start of his career and did not until the release of "Flower Boy."
It wasn't until a friend insisted that I would absolutely adore it that I listened to "Flower Boy." I put it off for weeks, even months, until I bought tickets to his November 11 show at The Pageant, forcing me to give it a chance.
I admit I was completely wrong about Tyler, the Creator. "Flower Boy" blew me away and changed my life.
It spoke to me like no rap album before. His depression and insecurities illustrated throughout the album resonated with me and even helped me get through one of the hardest chapters in my life.
The LP opens strongly with "Foreword," which lays out Tyler's unanswerable questions and recollection of the past intriguing fans with a new side of Tyler yet to be seen.
"How many cars can I buy till I run out of drive?/How much drive can I have, until I run out of road?/How much road can they pave, until I run out of land?/How much land can it be until I run in the ocean?/N****s go with the motions and all the plans/See, I was never into the beaches and all the sands/See, I was in the woods with flowers, rainbows and posies/Falling out of my pocket, but y'all want to know if I swam to cool down/How much cooler can I get until run out of fans?/How many fans can I have till they turn on the AC?/If the AC blow up, then I'm TNT, I'm gone."
Sensitivity is the center of "Flower Boy," unlike Tyler, the Creator's previous albums "Cherry Bomb" and "Wolf," which illustrated Tyler, the Creator's anger and obsession.
Honestly, I could pull a quote from every song off this album to show how it's poetic and beautifully written. But there are two verses that speak the most out of the masterpiece that is "Flower Boy."
First, the big reveal. While Tyler, the Creator has not confirmed this himself, "Garden Shed" reveals his personal demons dealing with his sexuality.
"Them feelings I was guardin'/Heavy on my mind/All my friends lost/They couldn't read the signs/I didn't wanna talk and tell 'em my location/And they ain't wanna walk/Truth is, since a youth kid, thought it was a phase/Thought it'd be like the Phrase, poof, gone/But, it's still goin' on/Big fan of the beige tan/Polka dot nose how it goes/Had to keep it on the subwoofer/A couple butterflies wanna float/But I was always like, "Eh"/Barely interested, but bagged just to brag to my boys like, 'Bruh.'"
Tyler, the Creator reveals what he could never share with his closest friends. He never shakes his feelings of difference. With "Garden Shed," he finally lifts the weight off of his shoulders.
Honesty is apparent as Tyler, the Creator breaks the silence about his depression and inability to be happy.
"911/Mr. Lonely," the strongest track on the album, demonstrates Tyler, the Creator's creative abilities through a track that is purposefully contradictory.
The track shifts quickly from optimism to doubt through a switch in production and overall tone. Its progression and bipolarity perfectly evoke the crisis Tyler is dealing with in "Flower Boy."
"They say the loudest in the room is weak/That's what they assume, but I disagree/I say the loudest in the room/Is prolly the loneliest one in the room (that's me)/Attention seeker, public speaker/Oh my God, that boy there is so f****n' lonely/Writin' songs about these people/Who do not exist, he's such a f****n' phony/One thing I know, is that I wanna/Win so bad, but I'm not Chicago/Heart is low, it's real low, it's so low/You can't lift me up, I'm like Gallardo/From the start it's been real dark/It's been so dark, I guess that you could call me charbroiled, huh."
There are not many words to describe Tyler's masterpiece. Perfection would be an understatement.
The risk taken to create "Flower Boy" was substantial. To reveal his hidden feelings throughout an entire album and be completely open with his audience was a risk in itself let alone coming out.
But "Flower Boy" was a huge success: nominated for two Grammys (Best Rap Album and Best Album of the Year) and nearly doubling the sales of his previous release "Cherry Bomb."
What makes "Flower Boy" stand out from the rest of his discography is its deep truth. Tyler is telling how it is revealing his struggles with himself and his loneliness that casts a shadow over everything else around him.
Never have I ever listened to a rapper get totally real with their audience in a way that's an achievement in rap and songwriting in general.
Filled with perfect substance and style, "Flower Boy" is the definition of what rap should be: beautiful, self-analyzing, emotional and without a doubt real.
Leave a Comment
About the Contributors
Josh Margherita, EHS_hub opinions writer
This is Margherita's fifth semester on staff where he serves as an opinions writer for the EHS_hub. Marghertia enjoys discovering new music, traveling...
Ethan Fine, Editor-in-Chief
This is Ethan's seventh semester on the News Production staff. In his free time, he enjoys taking photos, going to concerts and hanging out with his friends....