Opinion | Bona Fide | "ASTROWORLD"
A review of Travis Scott's "ASTROWORLD"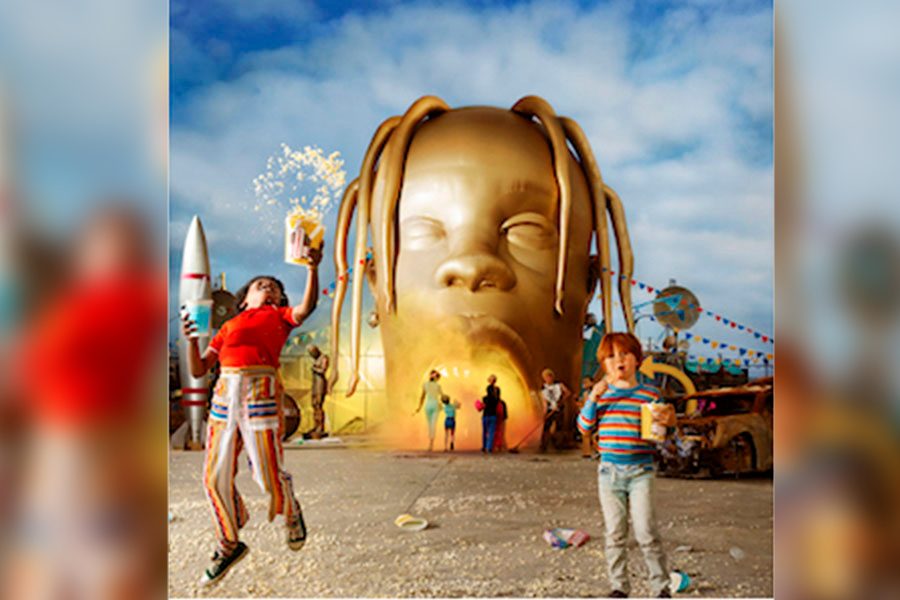 "They tore down AstroWorld to build more apartment space. That's what [my album]'s going to sound like, like taking an amusement park away from kids. We want it back. We want the building back. That's why I'm doing it. It took the fun out of the city."
In 2005 Houston razed the landmark amusement park of Houston: AstroWorld. With its rubble laid the crushed soul of Travis Scott. Although the park is closed, Scott is determined to revive it even if it is through his latest album.
The amusement park opened once again, Aug. 3. Full of thrills, twists and big-budget amenities, "ASTROWORLD" revives Travis Scott's master artistry in sound.
In 2015, Scott released his debut "Rodeo" to the instant gratification of his fans. With features from Kanye West to Justin Bieber, Scott was destined to succeed with "Rodeo."
A year later, Scott released "Birds in the Trap Sing McKnight." It was a triumph in production and set-up but lacked the man himself Travis Scott. Although it was Scott's strongest LP to date, it was a compilation more than a Travis Scott album.
As albums go, "Birds in the Trap Sing McKnight" is a seamless collection with perfect execution taking away from the drawn-out experimental aspect of "Rodeo."
"ASTROWORLD" serves as the proper follow-up to "Rodeo," orchestrating his songs so effortlessly. Scott is the master puppeteer of his craft not diving too far into new territory.
Scott's latest album brings out the best of both previous albums, illustrating Scott's ability to create a spectacle the size of an amusement park with features galore and glorious production that is on a grand-scale while still precise and conscious.
The LP opens with "STARGAZING," a perfect setup as if the amusement park–from which the album is based–was closed, mourned and then completely revived by the end of the song. Scott opens the doors to a world of wonder and astoundment.
"Got a thousand kids outside just tryna come alive/'99 took AstroWorld, it had to relocate/Told the dogs I'd bring it back, it was a seal of fate"
Tracks such as "SICKO MODE," "NO BYSTANDERS" and "YOSEMITE" are standouts in a sense of a vibe to "F**k the club up" as chanted by Sheck Wes on "NO BYSTANDERS."
Drake, who's album "Scorpion" went platinum the day of its release, is another behemoth in the rap industry that outdoes Scott in Scott's own song "SICKO MODE."
With a track that has three parts and gathers the two biggest names in hip-hop, the interaction between Drake and Scott is priceless and will be one for the books.
"STOP TRYING TO BE GOD," the most advanced track on Scott's album, paints a portrait of pain and understanding through a message of too-big-to-fail directed towards egotistic artists.
"Is it the complex of the saint that's keeping you so still?/Is it a coat of old paint that's peeling everyday against our will?/Is it too long since the last open conversation you had? Don't know/And did you see the void in the past?/And can you ever see it coming back?/Or can you always be a step ahead of it for me?/Or can you always be a step ahead of it for me?"
From Kid Cudi's infamous humming to James Blake's delicious, beautiful verse to Stevie Wonder's harmonica solo, "STOP TRYING TO BE GOD" is the culmination of "ASTROWORLD."
Travis confronts his relationship with Kylie Jenner in the laid-back final track of "ASTROWORLD:" "COFFEE BEAN."
Focusing on R&B while keeping true to his psychedelic style, "COFFEE BEAN" uses Scott's strengths in production while also broadening his horizons lyrically.
"How would you feel if I had you?/Trust me, you would be mad too (this is all)/Shawty, we can be mad cool/Just hit me if anything past due/Your family told you I'm a bad move/Plus, I'm already a black dude/Leavin' the bathroom, my hands is half-rinsed/If only a n***a just had sense/Speaking in past tense/It's been a week and a half since/We ain't been speaking and that meant/You feeling free in my absence/I've been going through a lot behind this glass tint, yeah/(This is all, this is all)"
While Scott doesn't venture out of his comfort zone enough on "ASTROWORLD," it is his fan's ultimate payoff and is everything but a disappointment. AstroWorld is revived from the ashes of 2005.
To say the least, Scott has mastered his sound and scale to a degree of perfection. It strengthens his previous weaknesses.
A victory lap for Scott, "ASTROWORLD" is an angel Scott birthed and raised through three albums to become a God.
Leave a Comment
About the Contributor
Josh Margherita, EHS_hub opinions writer
This is Margherita's fifth semester on staff where he serves as an opinions writer for the EHS_hub. Marghertia enjoys discovering new music, traveling...