Opinion | Bona Fide | "Superbad"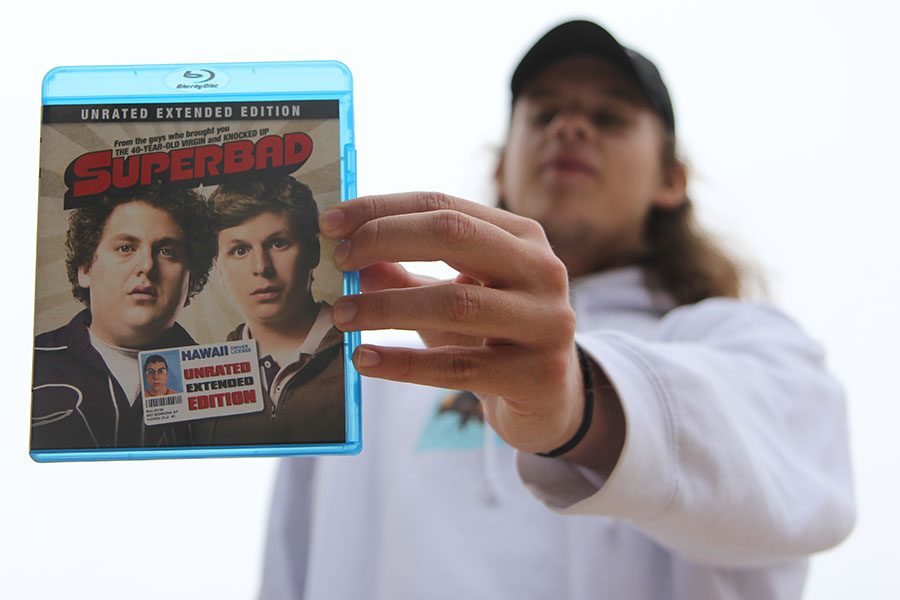 WARNING: "Superbad" is rated R by the MPAA for pervasive crude and sexual content, strong language, drinking, some drug use and a fantasy/comic violent image – all involving teens.
"Superbad" (2007) is a must-see because of its unapologetic humor that creates gut-busting laughs at every turn and does so crudely yet full of heart while completely standing its ground through strong writing and performances.
The film follows Seth (Jonah Hill) and Evan (Michael Cera), two inseparable best friends, through their last week of high school together as they try to navigate through the ultimate rager before they graduate.
The standout of the film, Fogell (Christopher Mintz-Plasse) is Seth and Evan's nerdy friend who acquires a fake ID for a party, their first and last of high school.
From the iconic McLovin driver's license to befriending two cops, Officer Michaels (Seth Rogen) and Officer Slater (Bill Hader), Fogell steals the show with his awkward adolescence and Plasse's breakthrough performance.
Loosely based off of writers Seth Rogen and Evan Goldberg's years in high school, "Superbad" was their debut, which would lead to future successes such as "Pineapple Express" (2008) "This is the End" (2013) and "Sausage Party" (2016).
Rogen and Goldberg wrote the script when they were only 14-years-old. Although not produced until many years later, Rogen and Goldberg had years to fully develop "Superbad." The payoff is in full.
Although Rogen and Goldberg have much success with past films and they work together like peanut butter and jelly, "Superbad" is their bread and butter. It is their comedy love-child and what raised them to comedic geniuses.
"Superbad" excels through its endlessly quotable scenes and laugh-a-minute pace that is bound to put a guilty smile onto any straight-laced individual.
Officer Michaels: "How old are you McLovin?"
Fogell: "Old enough."
Officer Michaels: "Old enough for what?"
Fogell: "To party."
The glue of "Superbad" lies within the razor-sharp script and strong sense of characters built by Rogen and Goldberg. The duo understood how to balance crude humor with relatable characters, which is a rarity in recent years.
The performances by each actor are effortlessly realistic and feel as if the camera is following a day in the life of three high school students. Charisma and relationship are the essence of the picture and creates non-stop laughs even from the smallest of roles.
Countless Friday night sleepovers of mine would end up devoting itself to "Superbad" and be endlessly quoted until my friends and I were all fast asleep; it was a middle school ritual.
Nevertheless the film holds a dear place in my heart, and although it is not a masterpiece of film or anything truly groundbreaking, it is comedy executed perfectly with the Rogen and Goldberg style that has been successful for over a decade.
Check out "Superbad" on Decider to find the perfect streaming service.
Leave a Comment
About the Contributors
Josh Margherita, EHS_hub opinions writer
This is Margherita's fifth semester on staff where he serves as an opinions writer for the EHS_hub. Marghertia enjoys discovering new music, traveling...
Regan Peterson, Managing Editor
This is Peterson's seventh semester on staff where she serves as the Managing Editor for both the Eurekana Yearbook and EHS-hub. Peterson enjoys sleeping,...