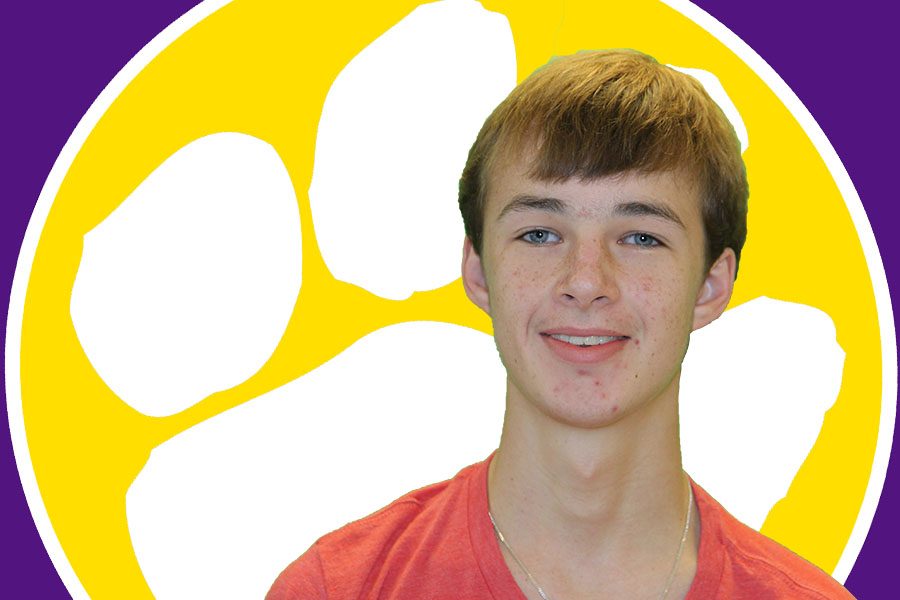 This is Haden's fourth semester on Yearbook Production staff and his first semester on the EHS hub staff. Haden's job is to take photos and help design spreads for the yearbook.
You can follow him on twitter @hmooreEHS_hub. His hobbies include playing paintball and taking photos.
A fun fact about him is that he loves taking photos. A question he wants to ask the world is, "Why are people so hard on other people?" Haden's dream job is to be a photojournalist.
Haden Moore, EHS-hub staff and Eurekana yearbook staff
May 27, 2017
May 19, 2017

Photos of the Week: May 15-19

(Story)

May 12, 2017

Photos of the Week: May 8-12

(Story/Media)

Apr 28, 2017

Photos of the week: April 24-28

(Story)

Apr 21, 2017

Photos of the week: April 17-21

(Story)

Apr 14, 2017

Photos of the week: April 10-13

(Story)

Apr 07, 2017

Photos of the week: April 3-7

(Story)

Apr 03, 2017

Photos of the week: March 27-31

(Story/Media)

Mar 31, 2017
Mar 22, 2017

Photos of the week: Feb. 13-17

(Story/Media)

Mar 22, 2017

Photos of the week: Feb. 21-24

(Story)

Mar 09, 2017

Photos of the week: March 6-9

(Story)

Mar 03, 2017

Photos of the week: Feb. 27-March 3

(Story)

Feb 10, 2017

Photos of the week: Feb. 6-10

(Story)

Jan 27, 2017

Photos of the week Jan. 23-27

(Story/Media)

Jan 25, 2017

Photos of the week: Jan. 9-20

(Story/Media)

Dec 16, 2016

Photos of the week: Dec. 12-Dec. 16

(Story/Media)

Dec 09, 2016

Photos of the week: Dec. 5-Dec. 9

(Story/Media)

Dec 02, 2016

Student Health and Wellness Day, Nov. 21

(Story/Media)

Nov 18, 2016

Photos of the week: Nov. 14-Nov. 18

(Story/Media)

Nov 11, 2016

Photos of the week Nov. 7-Nov. 11

(Story)

Nov 09, 2016

Staff editorial: Standing together

(Media)

Nov 04, 2016

Photos of the week: Nov. 1-4

(Story)

Oct 28, 2016

Photos of the week: Oct. 24-28

(Story/Media)

Oct 21, 2016

Photos of the week: Oct. 17-21

(Story/Media)

Oct 14, 2016

Photos of the week Oct. 10-14

(Story/Media)

Oct 07, 2016

Photos of the week: Oct. 3-7

(Story/Media)

Sep 30, 2016

Photos of the week: Sept. 23-30

(Story)

Sep 23, 2016

Photos of the week: Sept. 19-23

(Story/Media)

Sep 16, 2016

Photos of the week: Sept. 9-16

(Story/Media)

Sep 09, 2016

Photos of the week: Sept. 5- 9

(Story)

Sep 06, 2016

Photos of the week: Aug. 29-Sept. 2

(Story/Media)

Aug 26, 2016

Photos of the week: Aug. 22- 26

(Story/Media)

Aug 19, 2016
May 13, 2016

Photos of the week: May 9-13

(Media)

Apr 29, 2016

Photos of the week: April 25-29

(Media)

Nov 20, 2015

Photos of the week: Nov. 16-20

(Media)

Oct 16, 2015

Photos of the week: Oct. 12-16

(Media)