Tickets not required
Ballpark Village should provide summer-time entertainment for all ages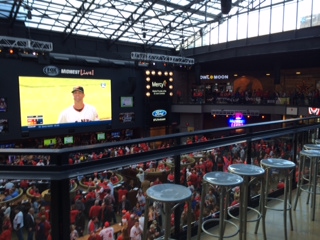 Being second in the National League Central Division, the Cardinal's baseball season has started up and with it, the new Ballpark Village has finally opened.
The Ballpark Village itself is open seven days a week and is located just across the street from the stadium on Clark Avenue. Anyone under the age of 18 is able to get in, but must be accompanied by an adult.
"I think it's a good idea, it puts more restaurants near the stadium," Nick Yost (9), said.
Restaurants in the Ballpark Village include but are not limited to Cardinals Nation, Fox Sports Midwest Live! and Tengo Hambre. Visit the website for more information.
NOTE: After 9 p.m. people must be 21 or older to gain admittance to Ballpark village and all it's venues.
Fox Sports Midwest Live! is the center entertainment plaza of Ballpark Village.
With it's 20,000 square foot marketplace and it's 40 foot diagonal screen above the stage that plays the Cardinals games, the Fox Sports Midwest Live! is the place to be to catch every play.
Underneath the giant screen is a stage that features different live performances and musical acts. Check out the schedule of the performing acts.
This venue also features a restaurant sports bar and multiple seating areas around the big screen.
The dinner menu here features entrees of a typical sports bar including appetizers, sandwiches, burgers, salads and soups.
Check out the dinner menu for Fox Sports Midwest Live!
Fox Sports Midwest Live! is open Monday-Thursday 11 a.m -2 a.m. and Friday-Sunday 11 a.m. – 3 a.m.
Tengo Hambre means "I'm hungry" in Spanish, so you can probably guess what this restaurant is serving.
This venue is a fast serve counter where you can get Tex-Mex style food on the go, that can be found within the Fox Sports Midwest Live! building.
Tengo Hambre is open Monday 11  a.m.- 2 a.m. and Tuesday-Sunday 11 a.m.- 3 a.m.
Check out the dinner menu.
Cardinals Nation is a two-story restaurant. The top level has a throwback look, honoring the Cardinals of the past, while the first floor is much more modern and honors the current players.
A few of the dinner menu entrees are Strip Steak, Pork Tenderloin and Home Run Mac & Cheese. Desserts include apple crisps, gooey butter cake and chocolate shakes.
Cardinals Nation is open all week from 11 a.m.- 12 a.m.
Aside from the restaurant, Cardinals Nation also includes the AT&T rooftop and the Cardinals Hall of Fame Museum.
"I'm looking forward to seeing the Hall of Fame that they opened up," Mr. Michael Hanna, soccer coach, said. "It's probably the part I'm most interested in seeing."
The Cardinals Hall of Fame Museum, like the Cardinals Nation restaurant, is created to honor the players and personalities who have had the greatest impact on the franchise, according to the website.
The museum is open daily from 10 a.m.-8 p.m. daily and remains open through the seventh inning on home game nights. The cost is $12 for adults, $10 for seniors of the age of 60 or more, and $8 for kids 15 and under.
The Busch – II – Infield traces the exact spot where the old Busch Stadium previously stood.
Mr. Frank Stevens, a man enjoying the day at Busch-II-Infield was already thrilled with it.
"I was impressed. More so than I thought I was going to be," Mr. Stevens said. "We saw it on TV, but everything looks even greater in real life."
This field will hold festivals, family fun activities and musical acts throughout the year. For information on events here, visit the website.
In the original plans for the attraction, hotels and numerous other details were included but had later been cut out.
Mr. Scott Sherp, former college baseball player, thought it would be a better idea to put the hotels in.
"If they end up putting the hotels that they previously discussed putting next to it, then yes I think it will be a good idea, but all those places like restaurants and activities to do late at night, if there's no nearby lodging, then I think that it can become more dangerous as the summer goes on," Mr. Sherp said.
Overall, Ballpark Village looks like it's doing well.
With lots of business and being right next to the stadium it's sure to prosper.
"I think it will do well, I think it'll thrive, and I think it'll stay there as long as the Busch Stadium stays there," Yost said.
Leave a Comment
About the Contributor
Micah Wengler, EHS-hub Photo editor
This is Micah's second year on staff. You can follow her on twitter @mwenglerEHS_hub. Her hobbies include hiking, and camping. Outside of school she sleeps....