Opinion | Bona Fide | "Both Sides of the Sky"
A Review of Jimi Hendrix' "Both Sides of the Sky"
Jimi Hendrix: A guitar God. Nothing less but so, so much more. Jimi Hendrix was among the first guitarists to create something completely new. He was an icon of the counterculture in which he evolved how the guitar could be used to make music by using the blues and going beyond simple chords.
Hendrix's style–unlike any before or after him–complements who he was as an icon. His special ability changed music itself and evolved music into what it has become today.
The glories and demons of fame have a tendency to take the lives of those born with a gift. Hendrix asphyxiated after overdosing, Sept. 18, 1970.
His presence, while short lived, left a mark on the world and inspired millions of musicians to write songs.
Dying at the age of 27, Hendrix only put out three studio albums with his group "The Experience":
"Are You Experienced" (1967)

"Axis: Bold As Love" (1968)

"Electric Ladyland" (1968)
After three masterful albums Hendrix's career was only looking up, until he knocked on Heaven's door and left the world.

But to fans pleasure Sony Records began releasing a trilogy of unreleased Hendrix studio recordings in 2010.
"Valleys of Neptune" (2010)

"People, Hell and Angels" (2013)

"Both Sides of the Sky" (2018)
"Both Sides of the Sky" offers fans 10 previously unreleased tracks including two tracks (the weakest on the album) with Stephen Stills of Crosby, Stills, Nash and Young on vocals.
The album itself serves its purpose: give fans more from the legend that is Jimi Hendrix. It isn't anything groundbreaking or a new side of Hendrix but rather a memento of the legend that was.
Hendrix's experimental flair still lies within these unreleased tracks–undoubtedly–and his adeptness for the blues is highly relevant throughout "Both Sides of the Sky."
Hendrix begins the album with "Mannish Boy," setting the musical scenery for the rest of the LP.
"Hey/When I was a young boy/At the age of five/I had fever in my pocket/People along the vocal line/Now I'm a man/I made 21/You now baby, we'll have a whole lots of fun/Cause I'm a man, spendin'/Hey, child and boy/And I be/Oh, why?/That I'm considered a mannish boy/Like a rolling stone."
Hendrix, the master of blues, illustrates his abilities to change between chords and improvise the body of his songs perfectly. Most tracks within "Both Sides of the Sky" are blues, rock and roll or both, which were the biggest influences at the time.
"Things I Used to Do" creeps through its blues aura effortlessly. Hendrix' godly touch of fingers to his guitar creates memorable riffs throughout the entire song.
"Lover Man" and "Jungle" are the pinnacle of the album where Hendrix demonstrates his ability to continuously evolve a song until the last second.
This album is not Hendrix at his best. Not even close. Being one of the most-talented musicians to ever live and possibly the best guitarist of all time (HE CAN PLAY THE GUITAR WITH HIS TEETH), this album is fan service.
That being said "Both Sides of the Sky" is more of what made Hendrix so special in and revolutionary for his time. The album is filled with beautiful riffs, insane solos and Hendrix' distinct way of performing, but a masterpiece is not to be expected.
You can purchase your copy of "Both Sides of the Sky" here.
Leave a Comment
About the Contributor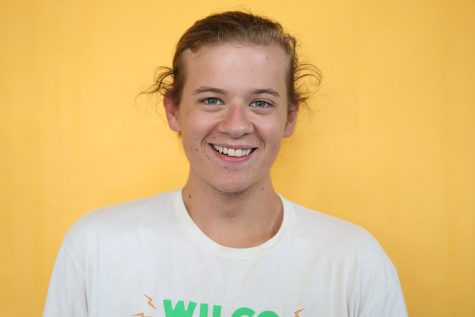 Josh Margherita, EHS_hub opinions writer
This is Margherita's fifth semester on staff where he serves as an opinions writer for the EHS_hub. Marghertia enjoys discovering new music, traveling...