Opinion | Bona Fide | "Fantastic Mr. Fox"
A Review of Wes Anderson's "Fantastic Mr. Fox"
In honor of "Isle of Dogs" being released, March 23, I will be reviewing Wes Anderson's first stop-motion classic, "Fantastic Mr. Fox."
"Fantastic Mr. Fox" centers on–well–Mr. Fox (voiced by George Clooney) and his family as he corrupts them into schemes to steal food and other royalties from the rich.
The film opens on Mr. Fox and Mrs. Fox (voiced by Meryl Streep) getting caught red-handed on a heist. Mrs. Fox then announces her pregnancy of their son and requires Mr. Fox to swear to never steal if they are to make it out of their dire situation.
Twelve fox-years later, Mr. Fox is settled down with his trophy wife and his son, who he struggles to connect with, but only until Mr. Fox involves himself and others around him into ensuing shenanigans.
Wes Anderson: not a household name to most; although it most certainly should be. His artistic style is like none other, which is why I would review almost all of his films because of their pure grace and contributions towards the ever-changing styles of cinema.
Titles like "The Grand Budapest Hotel," "The Life Aquatic With Steve Zissou," "Rushmore" and "The Royal Tenenbaums" best illustrate Anderson's wholly unique and wacky approach filmmaking.
Although "Fantastic Mr. Fox" is based off of a children's novel by Roald Dahl and is Anderson's only PG-rated film, the film is geared more toward adults than children.
Themes including envy, self-development and heroism are frequent throughout the motion picture. Anderson's common theme of family dysfunction is relevant as he resonates his filmmaking with human relationships.
Mrs. Fox: "I'm going to lose my temper now."
Mr. Fox: "When?"
Mrs. Fox: "Right now."
Mr. Fox: "Well, when… [Mrs. Fox slashes his face]. OW!"
Mrs. Fox: Twelve fox years ago, you made a promise to me, while we were caged inside that fox trap, that if we survived, you would never steal another chicken, turkey, goose, duck or a squab – whatever they are and I believed you. Why? Why did you lie to me?
Mr. Fox: "Because I'm a wild animal."
Mrs. Fox: "You are also a husband and a father."
Mr. Fox: "I'm trying to tell you the truth about myself."
Mrs. Fox: "I don't care about the truth about yourself. This story is too predictable."
Mr. Fox: "Predictable? Really? What happens in the end?"
Mrs. Fox: "In the end, we all die. Unless you change."
Anderson beautifully crafts the world of animals and humans and uses his top-notch voicing cast to their full potential. While "Fantastic Mr. Fox" is nothing groundbreaking story-wise, viewers can enjoy the astonishing colors, voice acting, set design, script and pretty much every other element of a film.
The most innovative writer/director in the industry today, a Wes Anderson film is an experience not to be overlooked. His films are stylistic, poignant and every smallest detail is overseen by Anderson himself.
With relevant themes, outstanding set design and cinematography, "Fantastic Mr. Fox" is as truthful and witty as its title: fantastic. Although uncommon territory for a film, the stop-motion used is the most beautiful you will see to date ("Isle of Dogs" being just above in use of stop-motion).
Whether you are an average film goer or not, a Wes Anderson film needs to be viewed before death and "Fantastic Mr. Fox" is an easier transition than the rest of Anderson's phenomenally-quirky filmography.
Leave a Comment
About the Contributor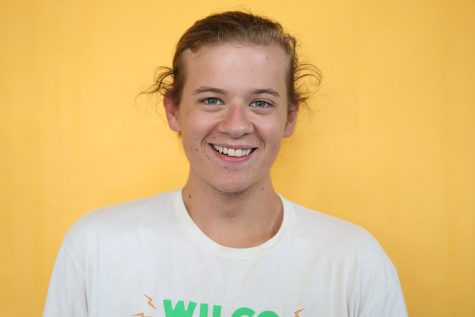 Josh Margherita, EHS_hub opinions writer
This is Margherita's fifth semester on staff where he serves as an opinions writer for the EHS_hub. Marghertia enjoys discovering new music, traveling...