A new commissioner, a resolution for Yemen and suspended tariffs
11/26-12/2 Know/inform/care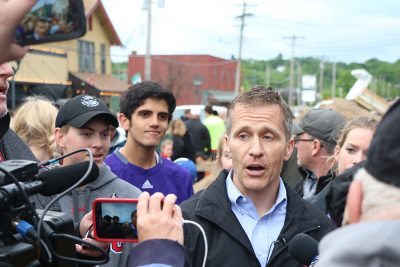 Local
Know: The Missouri school board rehired Margie Vandeven as the board's commissioner, Nov. 20.
Inform: The school board removed Vandeven from her position as commissioner in December 2017. Former governor Eric Greitens, who resigned in the midst of multiple allegations against him, appointed five people to the board in just a four-month-span in 2017 all of whom voted to remove Vandeven from her position in a 5-3 vote. Vandeven initially took her role as commissioner in January 2015. After her removal from office, the board elected Roger Dorson to take over the position as Missouri Commissioner of the Department of Elementary and Secondary Education. The board unanimously voted to reinstall Vandeven as the commissioner.
Care: As the Commissioner of DESE, Vandeven will oversee 900,000 students in over 500 school districts. RSD superintendent Eric Knost, who announced his retirement in October, was one of five candidates interviewed by the school board for the position. Vandeven will resume her position come Wednesday, January 2, 2019. Under her direction, DESE looks to focus on three areas that will help students succeed: access and opportunity, teachers and leaders and efficiency and effectiveness.
National
Know: The United States Senate voted to push forward a resolution that would withdraw U.S. troops from Yemen, Nov. 28.
Inform: The resolution passed with a vote of 63-37. Yemen is in the middle of a civil war that began when President Ali Abdullah Saleh handed over power to Abdrabbuh Mansour Hadi in 2011. Houthi rebel groups took advantage of the new president by taking over the northern city of Saada in late 2014. The Houthis later attempted to take control of the entire country, eventually forcing Hadi to (temporarily) resign in January 2015 and flee in March 2015. After Hadi fled, nine countries including Saudi Arabia began a campaign of airstrikes against the rebels in an effort to restore Hadi to power. The Houthis later killed the former president Saleh in December 2017. The conflict has resulted in over 8.4 million people starving and putting at least 75 percent of the population in need of humanitarian assistance. Over 400,000 children under the age of five are currently facing severe acute malnutrition with 85,000 estimated to have already died. The United States resolution would require that all U.S. armed forces are removed from Yemen within 30 days.
Care: While the Houthi-takeover-turned-civil-war has become known as the "largest humanitarian crisis," it is not all because of the rebel group. Coalition airstrikes led by Saudi Arabia–and backed by the U.S.– have killed civilians and damaged villages, only worsening the problem. Each year, the U.S. alone imports $18.9 billion from Saudi Arabia and has a $110 billion arms trade deal with the oil-rich country. The killing of Saudi journalist Jamal Khashoggi tested the bonds of the U.S. and Saudi Arabia, which proved still strong. Even though the U.S. is funding airstrike efforts to eliminate the Houthi rebel forces in Yemen, they are also both supporting the Saudi government that killed a journalist and the murder of innocent civilians in Yemen. Removal of troops from Yemen may be a start, but it will not change the fact that the U.S. has an arms deal with Saudi Arabia and that Yemen is facing irreversible conflicts.
International
Know: The U.S. has agreed to suspend raising tariffs on China, Dec. 1.
Inform: Following the G-20 summit meeting in Argentina, President Donald Trump agreed to not raise tariffs on Chinese goods in the next 90 days. Initially, Trump said that he would be raising tariffs from 10 percent to 25 percent on $200 billion worth of Chinese goods come Jan. 1, 2019, but after talks with General Secretary of the Communist Party of China Xi Jinping, Trump agreed to halt the increase. The United States has already imposed $250 billion worth of tariffs on China to which China responded with $110 billion in tariffs on U.S. imports. The U.S. says that China will be purchasing unknown amounts of agricultural, energy and industrial products from the U.S. in order to balance out the trade between the two countries.
Care: Tariffs make it cheaper for consumers to buy American-made goods rather than foreign goods, keeping jobs in the U.S., a major point in Trump's campaign. Still, China is the largest trader with the U.S. and is estimated to have exported $522.9 billion in goods and services to the U.S. in 2017. The United States is known for importing electrical machinery, furniture, toys and plastics from China. With China being such a large provider for the U.S., imposing harsh tariffs could pose a serious threat to America's economy. Simply turning over almost any product proves China's manufacturing strength. Had Trump proceeded with the tariffs, buying products like a Dell or Hewlett-Packard PC could become much more expensive as both companies buy parts from China.
Leave a Comment
About the Contributors
Ethan Fine, Editor-in-Chief
This is Ethan's seventh semester on the News Production staff. In his free time, he enjoys taking photos, going to concerts and hanging out with his friends....
Ryan Bircher, Resource Editor- DMP EHS-hub Eurekana
This is Ryan's second year on staff. You can follow him on twitter @rbircherEHS_hub. Ryan has worked at Walmart for 2 years. His favorite food is chicken...