Ten tips to tackling Black Friday shopping: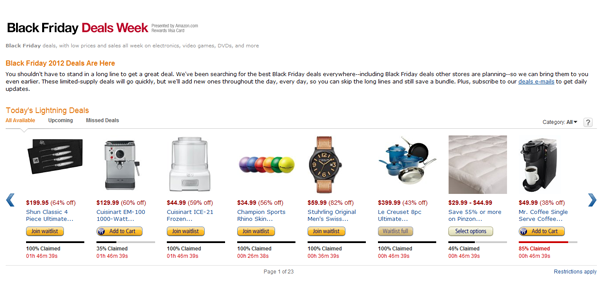 Before heading out in the early morning hours after Thanksgiving, here are a few things to consider:
1) Check the ads:
Certain stores offer special savings that are time specific. Checking the ads can maximize savings. Also, checking the ads can help save time because you'll already know where all the great bargains are.
 2) Make a list and stick to it:
In order to stay organized and on top of gift shopping, make a list of all the item's you want and which store has the best deals on them. A list will save you time, money and minimize the stress factor so you are not panicked by the mob.
3) Bring a buddy:
With all the chaos, a helper is handy. Working together will make the acquisition of items easier and faster. Also an extra pair of eyes watching your cart will guard your finds from those unscrupulous shoppers who won't hesitate to steal your deals!
4) 2012 savvy:
In previous years, Black Friday was all about who could camp outside the stores the earliest, and even though that's still a useful technique, many shoppers are now using the Internet to meet their Black Friday demands instead of hoofing it from store to store. Special Web-only discounts will be available to the public as early as the eve of Thanksgiving.
5) Stake out:
Although the Internet has many good deals to offer, people still enjoy the traditional camping outside the stores in order to be one of the first shoppers in the store. Staking out allows Black Friday shoppers to be possibly the first ones in a store and get the first shot at all the great deals before those other slower shoppers get a chance.
6) Know the hours:
Knowing when the stores sales will start and stop will be crucial to getting the good deals. The doorbusters usually start when the doors open, but some stores have their biggest deals after the stores have already been open.
 7) Doorbuster limitations
Do you want to be waiting in a two-hour long line for one of the six new iPhones at such a low price to most likely walk away empty handed? No one wants to end up like that so  know how many doorbusters a store will be stocking.
8) Check the deals:
Having a smart phone will really come in handy here. Scanning an advertisement in a print ad makes it easier to check around at all the diffrent stores to see which one has that item at the lowest price.
 9) Map out the store:
Many stores will offer maps of their store to make navigation more efficient. If you have a smart phone, Walmart and Target have downloadable apps to help make navigation throughout the store easier and faster.
 10) Grab those coupons:
Black Friday is all about saving the most money possible, so be even thriftier and bring those coupons out to ensure getting the best savings possible.
Leave a Comment