The writing is on the wall for Rent-a-Senior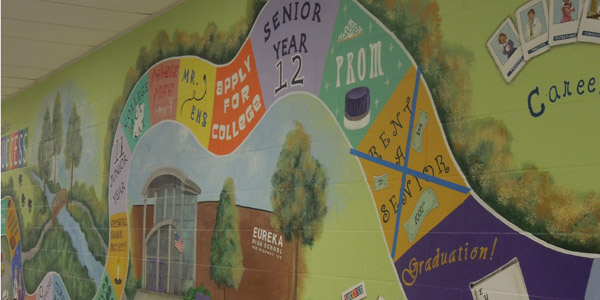 Rent-a-Senior has for years been a tradition where seniors, rented by their peers, dress up in ridiculous, silly costumes and perform roll-on-the-floor laughable, memorable moments: like dressing up as old people and harassing "youngins" or PacMan chasing his ghosts through the Commons.
The hallways were always crazy between classes.
"Last year Rent–a-Senior was so fun. I rented  Ryan Lupardus, and he had to walk around and sing and dance for me all day," Madison Bendigo (10) said. "Just watching all the other seniors do funny stuff was hilarious."
The students who rented a senior got to enjoy their rentees do whatever the renters say, but the performances were just as great for those who didn't buy a senior of their own.
"I never rented a senior, but I have always loved it." Zachary Lampley (12) said. "Every year I felt like the seniors had a funny new thing that topped the year before, it was great."
The administration made the decision last year to stop having Rent-a-Senior largely due to that increase in antics and issues of the day: students arriving late to class, leaving early, causing mayhem in the halls, etc.
"We have been discussing ending Rent-a-Senior for the last two or three years," Mrs. Deborah Asher, head principal, said. "There have been many concerns about it because it has gotten out of control. It was really disruptive, and we we're just getting a lot of complaints."
Although the administration strives to have a learning-first atmosphere, they do realize that the day was an enjoyable experience for seniors. They have sought to replace it with a new event.
"We know it's always difficult when people are used to doing something and have to stop it," Mrs. Asher said. "So we are replacing it with a new tradition: all the seniors get to go to the Cardinals game together one day. It's different, but it's a new tradition."
Seniors appear to be accepting the change and are ready to cheer on the Cards.
"I'm so excited for the game!" Brent Held (12) said. "I love the Cardinals, and I think it will be really cool to go there with the class."
EHS is a school built on tradition, and although Rent-a-Senior has come to a close, the door has opened for a new opportunity.
View Comments (1)