Opinions: Hindsight: In the spirit
Homecoming Spirit Week is one out of two weeks in school that allows us to dress up as ridiculously as we want and no one really cares if how silly they look. The other is the Spirit Week in the spring.
Spirit Week is kind of like Halloween but without the  free candy. We all can dress up in crazy clothes and/or costumes to show pride in our school. And that isn't lame. Being involved in Spirit Week is something that shows how connected the Wildcat community is.  
Personally, I love Spirit Week. It's such an interesting competition between lower and upperclassmen. We get to see who's got the most school spirit and has the most pride in their grade level. Each day a grade level has the highest percentage of participation, that grade level wins 25 spirit points. The class in second place is awarded 15 spirit points.
There are also lunchtime activities to win your class spirit points. The grade that wins the game is given 5 more spirit points.
As a freshman last year, I honestly could not have cared less about participating in Spirit Week. I looked at it more as just a regular week with different dress codes. I didn't think it was fun or anything. I'm pretty sure the only reason I had that outlook was because I was new to the school and was still getting used to the new, high-school atmosphere.
Now as a sophomore I look down on people that don't participate in the craziness. It's an exciting and fun competition. I've done my best all week long to out-do anyone else's attire. All of my outfits consisted of over-the-top themes.
For 'Merica Monday, I wore a tank top with an American flag in the shape of a long horn on it along with jeans and my cowgirl boots.
One point for sophomores.
For Tropical Tuesday, I wore a $3 bro tank with waves on it, a $3 men's swimming suit and my flip-flops. I seriously felt that I could've actually worn that outfit to the beach. 
Another point for sophomores.
For "On Wednesdays, we wear pink" Wednesday I went all out in a pink tank, pink and white Hello Kitty pajama pants, Hello Kitty slippers, a hot pink boa and to top it all off, pink fairy wings. Oh, I also sprayed all of my hair hot pink. Being a huge Mean Girls fan, I love going OT with the pink attire. I wasn't really going for a "fairy" look, I just liked the sparkly wings, and I also like to get somewhat creative when it comes to Spirit Week.
Another point for sophomores.
For Hipsters vs Preps Thursday, I went hipster and wore my MGMT t-shirt (a well-known band to most hipsters), white shorts, black Sperrys and my hipster glasses.
A point for sophomores.
And finally for today's attire. I'm wearing my Catpound t-shirt, Eureka Wildcats athletic shorts, purple socks and Sperrys. My makeup is also purple and gold to show my school colors and school spirit. I have purple eyeliner and gold eyeshadow. Go, Eureka Wildcats!
A point for the sophomores.
I wore my school spirit. Spirit Week is the public display of our pride in our school and each other. Spirit Week connects us and carries us through the year together. EUR-EKA.
Leave a Comment
About the Contributor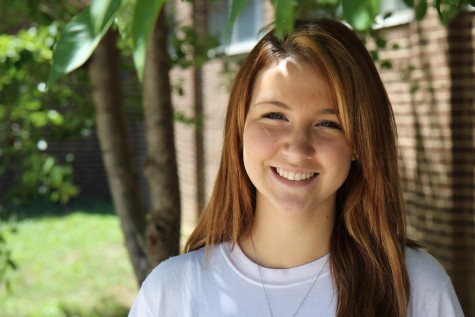 Natalie Hinds, Opinions Writer
This is Natalie's third year on staff and her second year writing opinions. Natalie likes horseback riding, country music and hanging out with friends....