Opinion | Bona Fide | "iridescence"
A review of BROCKHAMPTON's "iridescence"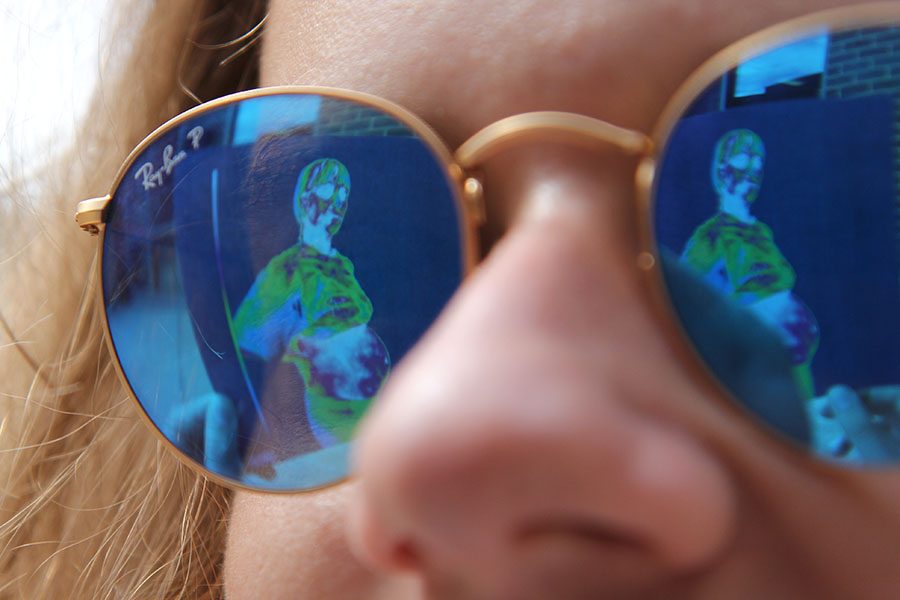 Stan: An overzealous or obsessive fan of a particular celebrity. Three concerts and five albums memorized, I am a BROCKHAMPTON stan.
After a year of defeat, loss and scandal, BROCKHAMPTON is back with "iridescence," another outstanding LP with some of the deepest cuts to date from the All-American Boyband, Sept. 21.
In March, the group was at the top of their career. They had just signed with RCA for a $15 million deal and were embarking on a year-long world tour. An album was scheduled to be released back in June ("PUPPY") but was suddenly canceled due to an unexpected incident regarding Ameer Vann.
Multiple allegations against Brockhampton's former-member Ameer Vann of sexual relations with a minor and being "emotionally manipulative and mentally abusive" raised questions as to Vann's place with the boyband, May 26. The next day, Vann was kicked out of the All-American Boyband forever changing BROCKHAMPTON.
With the recent uproar of #MeToo victims, it seemed BROCKHAMPTON had no other choice than to completely rid themselves of the dilemma that was Vann or face potential ridicule and backlash.
The boyband is stuck in the same situation as the rest of the world, leaving their past behind in an effort to stay relevant and not fade away like the men that have been called out so far. Touching on society's issues among other sensitive subjects, "iridescence" is a statement of return and nonetheless, the "greatest boyband in the world" makes the best possible comeback on "iridescence."
With bigger production and even recording in the legendary Abbey Road studios, "iridescence" lays down BROCKHAMPTON's elevative musical risks and the same deep-minded lyrics their audience has come to know and cherish.
The album opens with "NEW ORLEANS," a fierce and fiery announcement determined to let the world know BROCKHAMPTON is back and here to stay.
"Tell em boys don't run from us/I been down too long cousin/I been down too long brotha/Tell the world I ain't scared of nothin'/Tell the world I ain't scared of jumpin'/Tell my boy I want a crib in London/Tell the world stop trippin out/I'll build different houses with different functions."
Songs are less formulaic than the SATURATION trilogy and more experimental than ever as if the typical chorus/verse/chorus format is thrown out the window and their ideas are free-ranging leaving no trace of all previous boundaries.
The seamless transition into "THUG LIFE," the second track of the album illustrates the boyband's creative twists as they use the same production but slightly altered to fit the powerfully introspective verse from Dom McLennon. The verse can only be understood when the listener is fully immersed and soaked in the essence of McLennon's realism.
Tracks such as "DISTRICT" and "J'OUVERT" propose BROCKHAMPTON's societal anger and therefore create the ultimate aura of raging until their voice is heard across the world.
"'Til the casket drops, I will play God/F**k the world, let's start a riot/Got too much too quick/God d**n, I'm feeling sick, b***h, call the doctor/Don't act like I ain't been dead to ya'/Don't act like I ain't deserve this s**t/Couldn't last a day inside my head/That's why I did the drugs I did/Got issues with these mother******s/Looking down from they pedestals/From that petty view, on that petty s**t/Pray for peace with a knife in my hand/Speak my piece like a gun to my head/Come equipped just to blast this s**t/Misunderstood since birth/F**k what you think, and f**k what you heard/I feel betrayed, you can keep the praise/And all of the f**k s**t, need to get away/Still ain't got the fright to the fickle-minded people/I thought I knew better, wish I knew better/Should have known better, wish that I was better/At dealing with the fame and you fake mother******s/Guess I'm too real."
At its strongest, "iridescence" becomes optimum with it's self-embracing ballads including "HONEY," "SAN MARCOS" and "TONYA."
"SAN MARCOS" is a definitive BROCKHAMPTON track illustrative of their fanbase, compromising coming-of-age lyrics with a guitar strum that brings nostalgic euphoria and encompasses all of the heart that lies within the boyband. The final chorus may as well be an anthem for the underprivileged youth.
"I want more out of life than this/I want more, I want more"
"TONYA" addresses the Vann scandal where leader Kevin Abstract compares his life to that of public figure Tonya Harding, an Olympic figure skater taken down through a scandal. The progression is utter perfection and every member shines on the track to create a song that will drive tears and clapping hands as if Sunday morning service was surprisingly relevant to life that day.
Although the absence of Vann is noticeable, the boys fix the broken pieces the best they could. "iridescence" may not be the boyband's strongest work, but it wholly satisfies this stan.
Where BROCKHAMPTON potentially could've fallen off of the face of the Earth, they picked themselves up and brushed off their demons to demonstrate their ability even further. "iridescence" molds BROCKHAMPTON's name into the concrete, as they are not leaving anytime soon.
Leave a Comment
About the Contributors
Josh Margherita, EHS_hub opinions writer
This is Margherita's fifth semester on staff where he serves as an opinions writer for the EHS_hub. Marghertia enjoys discovering new music, traveling...
Regan Peterson, Managing Editor
This is Peterson's seventh semester on staff where she serves as the Managing Editor for both the Eurekana Yearbook and EHS-hub. Peterson enjoys sleeping,...