A house fire, Facebook breach and a chemical attack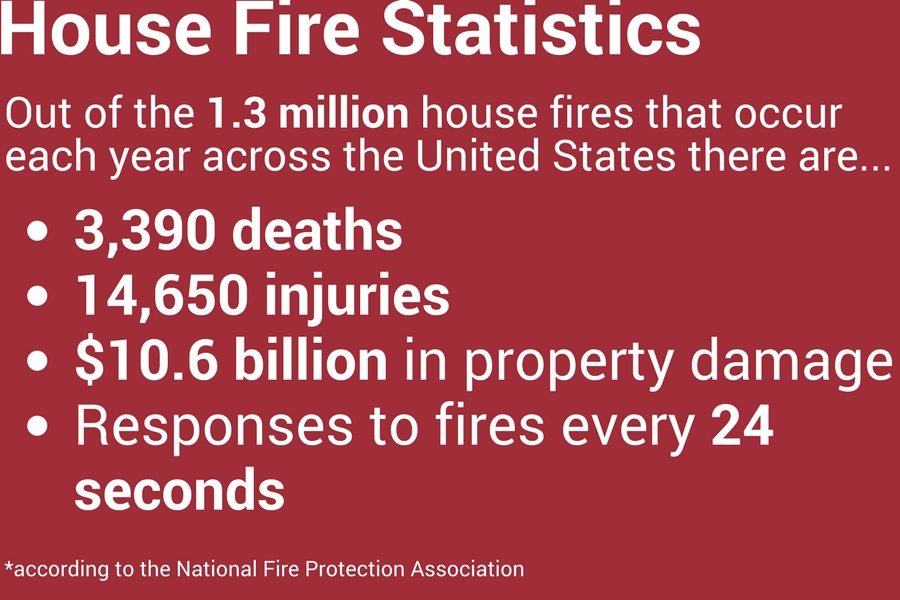 Local
Know:
A five-room home in Webster Groves near Deer Creek and Brentwood Park
caught fire
and exploded, April 8.
Inform:
Late last night neighbors reported the explosion, and 43 firefighters rushed to the rental property. While the house was on fire, the property owner and family of five that lives in the home were running errands. The explosion came from the back of the home, but
Webster Groves Police
and investigators are still trying to find out what caused the damage.
Care:
In 2016, the
National Fire Protection Association
reported over 1.3 million fires across the United States. These fires caused 3,390 deaths, 14,650 injuries and $10.6 billion in property damage, with fire departments responding to fires every 24 seconds. Home fires can happen at any given time to anyone. Some of the most
common causes
include cooking, heating, electrical and lighting equipment, along with smoking materials. With increased threats and occurrences,
precautions
should be taken when leaving the home. Residents can prevent fires and stay safe by frequently testing smoke alarms, arranging escape plans and turning off ovens, stoves, lamps, etc.
National
Know:

Facebook CEO Mark Zuckerberg
admitted to allowing third-party apps to grab user data without permission and will meet with Congress to discuss the controversy, April 10.
Inform:
Facebook plans to post a link of top users' news feeds to allow them to see what information different apps connected to the platform are allowed to see. The 87 million Facebook users will also be able to use the link to prevent apps from collecting more information. After
Cambridge Analytica,
a London-based voter analytics group, obtained information from the social media platform, there has been backlash towards Facebook.
Kogan,
an Australian online shopping destination, later violated Facebook's terms of service by passing data to Cambridge Analytica, a company later hired for President Trump's campaign in 2016. Facebook then banned both Kogan and Cambridge Analytica from the social media platform.
Care:
From knowing a user's location, search history and app usage, Google and Facebook also have
access
to users' webcam and microphone. Access to users' everyday activities allows the internet giants to know what events one attended and when, what one's workout routine is and what emails have been sent, received and deleted. Although a user may think that their history and data has been deleted, Google and Facebook both store the data spanning back to the creation of the account.
International
Know:
Dozens of Syrians suffered from a
chemical attack
in the suburb of Douma, east of Damascus, April 7.
Inform:
At least 42 people have been found dead in their homes. Medical and rescue groups rushed patients facing suffocation with burning eyes and white foam pouring out of their mouths and nostrils to clinics, April 7. Currently the
U.S. government
is working to verify if chemical weapons were used to attack Douma's rebels. Last year President Trump ordered military strikes on a Syrian air base to punish Bashar al-Assad, President of Syria's chemical attack. In recent posts on
Twitter
,
Trump condemned the attack, blaming Iran and President Putin of Russia for supporting the Syrian government and warning them of the consequences.
Care:
As Trump pushes to
remove troops from Syria,
The Syrian Observatory for Human Rights
reported that more than 500 people had gone to medical centers after the assault. The
Chemical Weapons Convention
bans chemical weapons and the use of them in warfare. The pact has 192 countries as
signees
including Syria. The CWC banned chemical weapons and required their destruction within a certain amount of time and other contracts have banned the use of all chemical weapons manufactured since 1925.
Leave a Comment
About the Contributor
Sarah Myers, EBN and Eurekana editor-in-chief
Myers serves as the editor-in-chief of two staffs: EHS-hub Broadcast News and Eurekana yearbook. She has been on staff since first semester her sophomore...