March for Our Lives, a spending bill and orange snow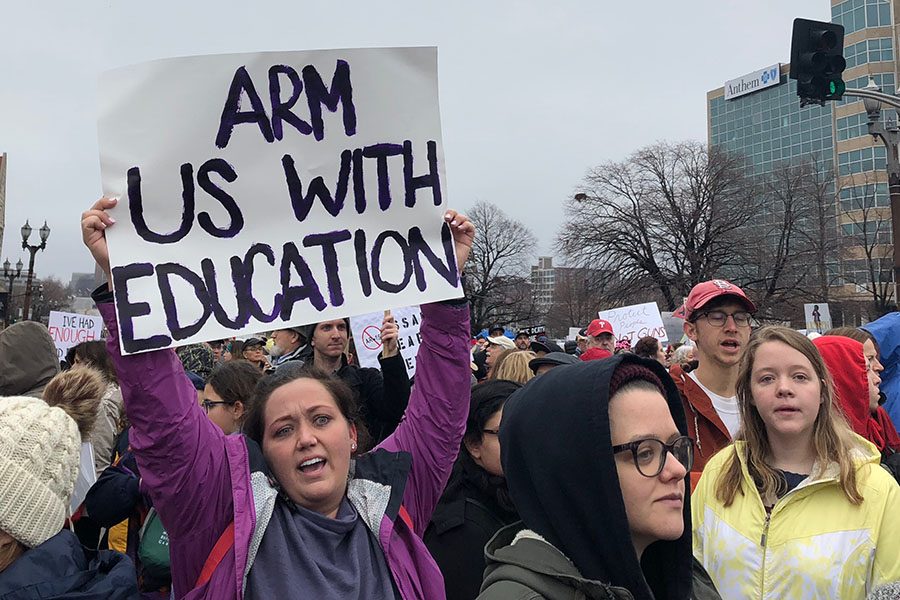 Local
Know: More than 10,000 protesters took to the streets in downtown St. Louis for the March for Our Lives rally, March 24.
Inform: Over 800 rallies took place worldwide with St. Louis being one of them. Each of the 50 states had at least one rally. Student organizers planned local marches around the world to stand up to the frequent gun violence within schools after the Marjory Stoneman Douglas school shooting that took place Feb. 14. Washington D.C. hosted the "main" march. Attendance for the D.C. march is still being calculated, but it is looking like more than 800,000 marched. St. Louisans marched 10 blocks bearing signs in protest beginning outside Union Station, March 24. The march came only two weeks after students walked out of classes in protest of the repeated gun violence.
Care: With 15 school shootings only four months into 2018, students have chosen to take a stand. Following the Marjory Stoneman Douglas school shooting, Feb. 14, students began taking action. It began with the Parkland students organizing the national walkout, March 14. After more than 3,000 student walkouts, students planned the March for Our Lives to involve even more people. The marches gained the attention of several politicians including former President Barack Obama and 2016 Presidential Candidate Hillary Clinton, but President Trump has yet to acknowledge the protests. Walkouts are being planned to commemorate the Columbine High School shooting, April 20.
National
Know: President Donald Trump signed a $1.3 trillion spending bill, March 23.
Inform: Trump originally tweeted out that he planned to veto the bill because over 800,000 DACA recipients were "abandoned by Democrats" and the bill does not fund Trump's border wall. Later, Trump chose not to veto the bill because of the $700 billion worth of benefits for the military, an increase of more than $60 billion from 2017. The President closely avoided another government shutdown as the government's spending ends at 12:01 a.m., March 24. The bill includes $1.6 billion for border security with the additions of new security measures and repairs for current barriers. $641 million will go toward 33 miles of fencing, but the bill does not allow for Trump's concrete blockade. The White House proposed a deal in January in which DACA recipients would receive extended coverage for the next two-and- a-half years in exchange for $25 billion for Trump's border wall, but Democrats rejected the deal.
Care: Trump's veto proposal in his Friday morning tweet would have caused another government shutdown: the third in Trump's term. The bill provides funds for Trump's border security measures which were key to his campaign. Although President Trump has boasted his plans to avoid immigration, particularly illegal immigration in the U.S., more than 40 million people living in America are immigrants. Twenty-seven percent of all immigrants in the U.S. are from Mexico. Unauthorized immigrants make up nearly 26 percent of farming occupations in the U.S. and 15 percent of occupations in construction. Trump's plans to mass deport these undocumented immigrants would not only make a significant dent in these workforces, but it would also require 15,000 arrests for immigration charges a day. And with the increased government spending comes an increased deficit, which could top $1 trillion by 2019. Still, the government will not slow down spending, pushing the U.S. further in debt.
International
Know: 'Orange snow' began blanketing eastern Europe, March 23.
Inform: An orange-tinted snow fell down in Russia, Bulgaria, Ukraine, Romania and Moldova. The snow's tint is because of sand from the Sahara desert in Africa, which blended with snow and rain in Europe. Sand is lifted up into the atmosphere and spread out because of the winds low-pressure system in Europe. and The phenomenon occurs every few years, but this year's sand concentration is higher. Skiers have taken to social media to show their 'Skiing on Mars.'
Care: The orange snow is another one of the strange natural occurrences recently. Nor'easters have ravaged the east coasts in the U.S. twice already this year and winter storms have brough snow to all parts of the U.S. As Eureka braces for more than a week straight of rain, people are reminded of the two historic floods that have plagued the community.
Leave a Comment
About the Contributor
Ethan Fine, Editor-in-Chief
This is Ethan's seventh semester on the News Production staff. In his free time, he enjoys taking photos, going to concerts and hanging out with his friends....