Military signing, DACA changes and riots in Palestine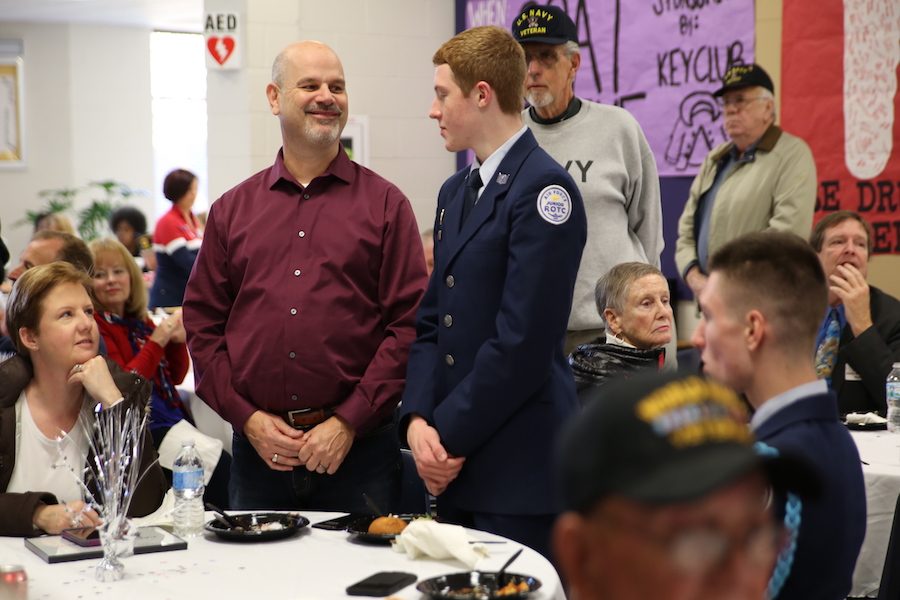 Local
Know: EHS will be hosting its first military signing, April 9.
Inform: From 8:45 to 9:30 a.m. in Gym A, eight students will commit to the military. Nick Cunningham (12) will go into the Army National Guard after attending Missouri State University's ROTC program. Molly Kerr and Hannah Uffman (12) are committing to the Navy. Austin Neustaedter (12) will be committing to the Army National Guard. Kylee Bowling (11) and Robbie Gentry (12) are committing to the Army. Adam Fuqua (12) will attend West Point, and Alexander Young (12) will join the Marines. Brigadier General William Blaylock, logistics director of the U.S. National Guard, will speak and band will perform at the event.
Care: This is EHS' first military signing. Students going into the military will be able to demonstrate their dedication, just like how athletes participate in signings when they commit to universities. These eight EHS students will be serving our country and protecting our freedom. EHS has shown respect for those who serve in other ways such as the Veterans Day celebration, but a military signing is a new way to honor those peers who have taken on this responsibility.
National
Know: President Donald Trump tweeted his plan to end DACA, April 1.
Inform: Trump's tweet starts off blaming Democrats for issues at the Mexican border and ends with him declaring, "NO MORE DACA DEAL!" Deferred Action for Childhood Arrivals is a program founded under the Obama administration in 2012 that grants protection to children of undocumented immigrants brought to the U.S.. These children, known as Dreamers, are shielded from deportation and given work permits. Illegal immigrants make up 3.4 percent of the U.S. population. Trump attempted to reach an agreement with Democrats to protect DACA in exchange for his Mexican border wall. DACA protects an estimated 800,000 people in the U.S. Trump's tweet says that the border is becoming increasingly dangerous and seeing "caravans" of immigrants. American-based immigration advocacy group Pueblo Sin Fronteras arranged for more than 1,500 immigrants to pass the border together as "caravans," although the group has yet to pose an immediate threat.
Care: The President's plan to end DACA comes only a week after he signed a $1.3 trillion spending bill, March 23. The spending bill includes $1.6 billion for border security but pay for Trump's concrete blockade. However, Trump nearly vetoed the bill, claiming that Democrats "abandoned" DACA recipients. The U.S. Immigration and Customs Enforcement made 143,470 arrests 2017, a 30 percent increase from 2016. With more and more immigrant arrests, a plan like DACA could give these immigrants jobs and homes and make the U.S. the melting pot it once purported itself to be. With the 2020 U.S. Census quickly approaching, President Trump added a question regarding citizenship and immigration, a decision that violates the U.S. Constitution. At least 12 states have chosen to sue Trump for his addition with the states under the belief that immigrants will chose not to respond and will make for inaccurate data.
International
Know: Israeli forces killed 17 Palestinians, March 30.
Inform: An estimated 30,000 Palestinians lined the fenced Gaza-Israel border for a planned six-week protest nicknamed the Great March of Return. After riots broke out, Israeli soldiers opened fire, ultimately killing 17 and injuring as many as 1,400. Israeli troops used guns, tear gas, tanks and rubber bullets against the protesters. The protest came a little more than a month before the 70-year anniversary of Israel, a date when protesters' families were driven out. The day of these killings has been deemed the bloodiest day between the two parties since 2014. While both sides have different accounts of what exactly happened, the United Nations will investigate.
Care: The Israeli-Palestinian conflict dates back to 1948 when Israel gained its independence; although Israelis and Palestinians would say it could date back to even earlier. Israelis forced thousands of Palestinians to flee their homes as Israel became the Jewish homeland. Following a war in 1967, Israeli troops again occupied Palestinian land. While Israel left Gaza in 2005, it still controls Gaza's borders. President Donald Trump's acknowledgment of Jerusalem as Israel's capital have also caused protests as Trump put the U.S. in the middle of a longstanding battle on religious homelands. St. Louis is home to more than 130,000 immigrants including over 70,000 refugees. The city is considered among one of the fastest-growing metro area for immigrants and organizations like the St. Louis Mosaic Project aim to make it the nation's fastest by 2020.
Leave a Comment
About the Contributors
Ethan Fine, Editor-in-Chief
This is Ethan's seventh semester on the News Production staff. In his free time, he enjoys taking photos, going to concerts and hanging out with his friends....
Regan Peterson, Managing Editor
This is Peterson's seventh semester on staff where she serves as the Managing Editor for both the Eurekana Yearbook and EHS-hub. Peterson enjoys sleeping,...