A governor's indictment, student walkouts and a suicide bombing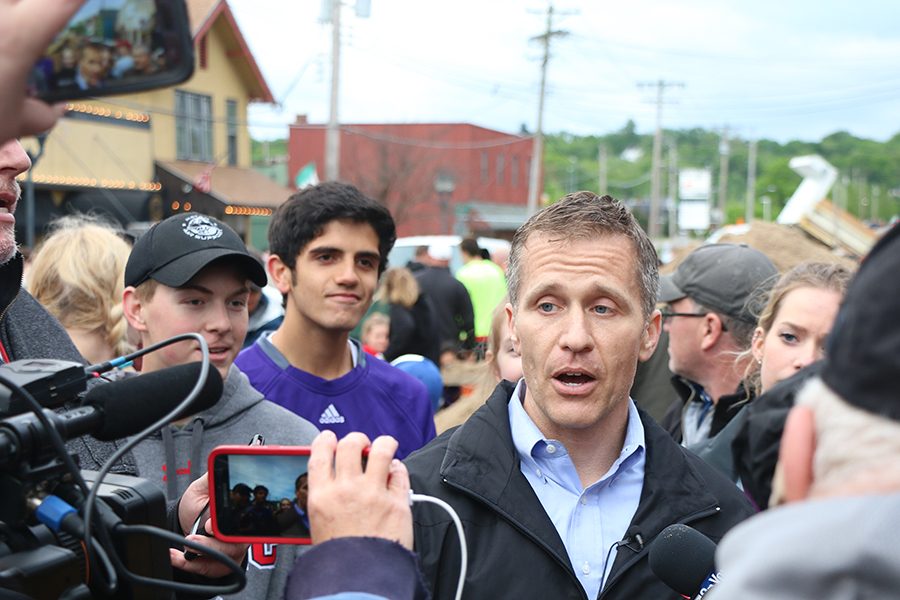 Local
Know: Missouri Governor Eric Greitens has been charged with a second felony, April 20.
Inform: Allegations arose of Greitens photographing a woman in various states of undress and using them as blackmail in January. Greitens admitted to having an extramarital affair with his hairdresser but denied anything further. Police arrested Greitens, Feb. 22, and charged him with invasion of privacy. Police charged Greitens with computer tampering, April 20. Prosecutors allege that the governor obtained a list of donors for The Mission Continues, a nonprofit that Greitens founded to aid veterans and used donors, for political fundraising. Missouri Attorney General Josh Hawley brought forth the claims, saying his office had evidence of Greitens' tampering.
Care: Greitens' initial charge puts him among a list of politicians including President Trump, actors, musicians and other public figures accused of sexual harassment. The growing list of the accused translates to a growing number of women speaking out and disrupting the silence. Greitens' second indictment comes only a day after a judge ruled that the case will proceed. Since January's allegations, several Missouri representatives have called for the governor to resign, including Hawley. With impending impeachment possible or resignation, Lieutenant Governor Mike Parson would take over the position if Greitens were to leave office. Greitens has taken to Twitter to announce that he will not resign and that his upcoming court date will prove his innocence. Eric Greitens will go to court, May 14.
National
Know: Students across the country walked out of their classrooms to protest gun violence in schools, April 20.
Inform: Leaving the classroom has become a way for students to voice their opinions. The April 20 walkout followed another student-organized walkout, March 14, which came one month after the Marjory Stoneman Douglas shooting. Lane Murdock, a 16 year old from Connecticut, founded National School Walkout, the organization that has been arranging the walkouts. The most recent walkout both commemorated the 19th anniversary of the Columbine High School Massacre and continued students' fight against gun violence within schools.
Care: EHS students were apart of the protests. Students left their classes at 10 a.m., April 20, and headed toward the football field. There, organizers gave speeches and students were able to register to vote, sign petitions to raise awareness for mental health and write to Missouri legislators. After, several EHS students left school to join other schools from across the St. Louis area to protest outside Missouri Attorney General Josh Hawley's office. Students are functioning members of a democracy, too. As students speak up and exercise their First Amendment right to raise awareness of the Second Amendment rights, lessons of social studies become a reality.
International
Know: A suicide bomb attack killed 57 in Afghanistan, April 22.
Inform: The bomb detonated at a voter registration center in Kabul, the capital of Afghanistan. In addition to the 57 killed, 119 were injured, according to the Afghan Public Health Ministry. The Islamic State has since taken responsibility for the act. Dashte Barchi, a Kabul neighborhood, is primarily of the Shia Muslim religion, making it a target for ISIS. A roadside bomb killed five and a blast injured four in other parts of Afghanistan, April 22. The Taliban, another radical Islamic group, took responsibility after killing 100 in a Kabul bombing, Jan. 27.
Care: ISIS originally began as a "splinter" group of al Qaeda, the group responsible for the 9/11 attacks. The goal of ISIS, also known as ISIL or IS, is to create an Islamic State throughout the middle east. ISIS has been responsible for several notable U.S. attacks such as the 2015 San Bernardino attack and 2016 Pulse Nightclub shooting. Terrorism has been on the rise since 9/11, with 46,573 attacks worldwide from 1986-2001 and 98,773 attacks worldwide from 2001-2016, according to the Global Terrorism Database. While the U.S. has been trying to fight terrorism since 2001, it does not seem to be making much of an impact as there were more than double the attacks after 9/11 than there were in the same period of time before.
Leave a Comment
About the Writer
Ethan Fine, Editor-in-Chief
This is Ethan's seventh semester on the News Production staff. In his free time, he enjoys taking photos, going to concerts and hanging out with his friends....