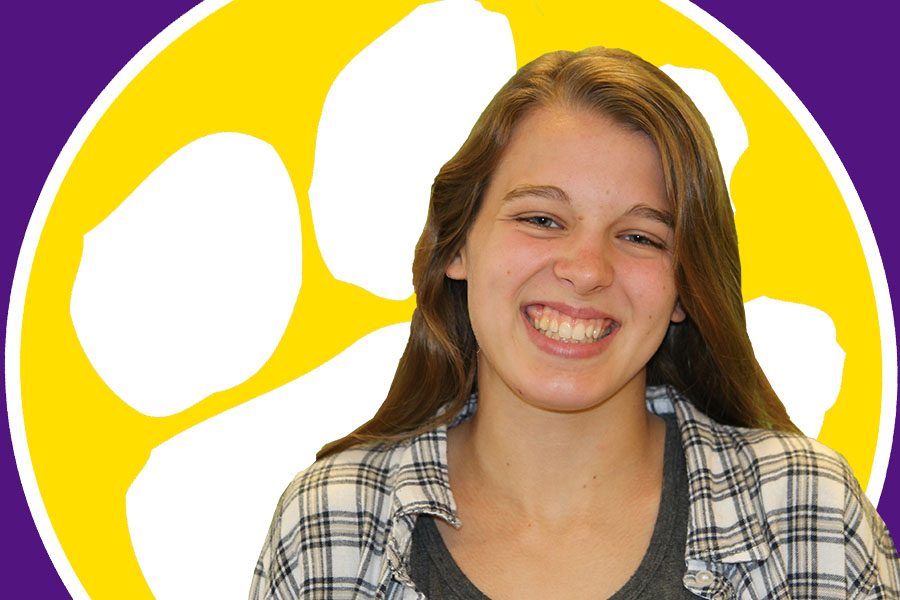 This is Becca's fifth semester on Yearbook Production staff. She is co-production editor with Sarah Myers, so she oversees the Yearbook Production staff and helps design and create the yearbook spreads.
Her hobbies include photography, drawing and hanging out with her friends. Becca also wrestles and participates in jiu jitsu, which is like MMA. An interesting fact about Becca is that she is sometimes a shy introvert or sometimes a very outgoing extrovert.
A conversation she would like to have with the world would be about all the different types of discrimination and how it can be changed. Her dream job would be traveling the world and taking photos and videos for a travel magazine or blog.
Becca Newton, Eurekana yearbook staff co-editor
Apr 30, 2018

A Ballpark Village shooting, a star found guilty of sexual assault and international peace talks

(Media)

Apr 02, 2018

EBN | Community questions and answers

(Media)

Mar 20, 2018

EBN | Building Eureka's future

(Media)

Mar 01, 2018
Feb 16, 2018

Winter Formal, French field trip to St. Louis Art Museum and a JV girls basketball victory

(Media)

Feb 14, 2018

EBN | The scene behind Eureka's strong police force

(Media)

Feb 09, 2018

Wildcat wins, Prop E informational video and a band performance

(Media)

Feb 01, 2018

Up Close and Personal: Lily Dean

(Media)

Jan 19, 2018

Boys varsity basketball win, Golden Line performance and creative classes

(Media)

Dec 05, 2017

EHS Publications needs YOU

(Media)

Nov 03, 2017

Girls varsity cross country moves onto state, French Club Halloween parties and Puerto Rico relief

(Media)

Oct 13, 2017

Homecoming wrap up, learning and the end of the softball season

(Media)

Oct 10, 2017

Teacher Feature: Matthew Hillebrand

(Media)

Oct 06, 2017

Homecoming Week, Friday Night Lights and community spirit

(Media)

Oct 05, 2017

Five things StuCo execs want the student body to know

(Media)

Sep 29, 2017

Cardinals game choir, tough losses and a Monday mercy rule

(Media)

Sep 26, 2017

Reading the signs

(Media)

Sep 22, 2017

Superintendent selfies, community car wash and saving lives

(Media)

Sep 15, 2017

Community pride, Golden Guys and a singing presentation

(Media)

Sep 14, 2017

The elephant in the room

(Media)

Sep 11, 2017

Hate, social media, Irma and a testing North Korea

(Media)

Sep 10, 2017

Photos of the Week: Sept. 1-7

(Media)

Sep 05, 2017

Photos of the Week: Aug. 25-31

(Media)

Aug 18, 2017

Photos of the Week | summer

(Media)

May 25, 2017

Looking to the future

(Media)

May 12, 2017

Photos of the Week: May 8-12

(Media)

May 02, 2017

#EurekaStrong… again

(Media)

Apr 21, 2017
Mar 22, 2017

Photos of the week: Feb. 13-17

(Media)

Mar 01, 2017
Feb 28, 2017
Feb 10, 2017

Photos of the week: Feb. 6-10

(Media)

Jan 25, 2017

Photos of the week: Jan. 9-20

(Media)

Dec 09, 2016

Photos of the week: Dec. 5-Dec. 9

(Media)

Dec 01, 2016
Nov 04, 2016
Nov 02, 2016

Opinions: From the desk: Press rally

(Media)

Oct 28, 2016

Photos of the week: Oct. 24-28

(Media)

Oct 21, 2016

Photos of the week: Oct. 17-21

(Media)

Oct 14, 2016

Photos of the week Oct. 10-14

(Media)

Sep 30, 2016

Photos of the week: Sept. 23-30

(Media)

Sep 23, 2016

Photos of the week: Sept. 19-23

(Media)

May 13, 2016

Photos of the week: May 9-13

(Media)

Feb 26, 2016

Photos of the week: Feb. 22-26

(Media)

Feb 19, 2016

Photos of the week: Feb. 15-19

(Media)

Oct 16, 2015

Photos of the week: Oct. 12-16

(Media)