Student success, a deadly storm and Korean peace talks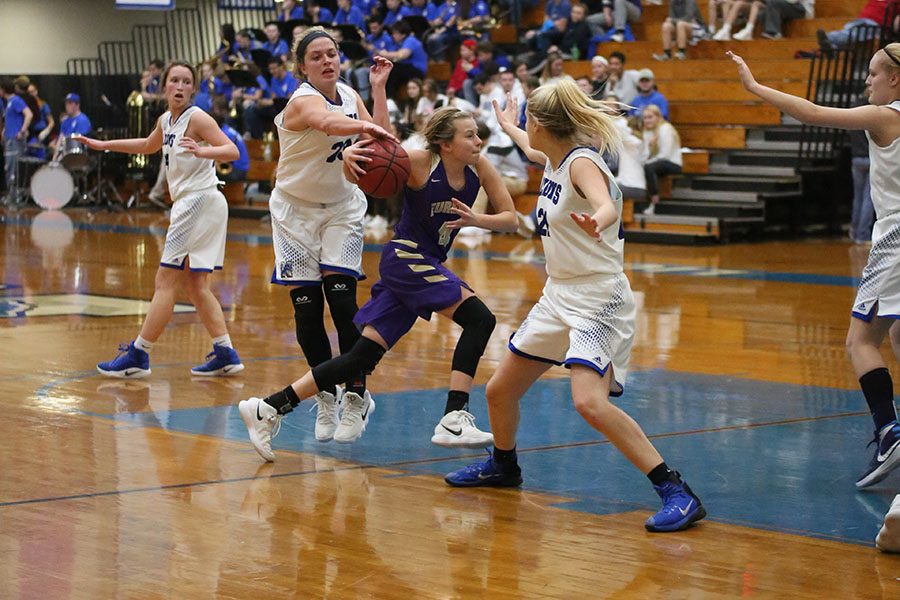 Updated with EHS Orchestra students who qualified for State and Eurekana Yearbook accomplishments, March 6 and EHS Choir contest results, March 7.
Local
Know: EHS students have taken their passions to new heights.
Inform: EHS Concert Band, Symphonic Winds and Symphonic Band all earned a gold rating at the State Band Festival. Students received both "one" ratings and "two ratings." The following EHS Orchestra students qualified for state:
Cloe Jones (12)

Jack Vandegriffe (12)

Jacob Keesey (11)

Paige Hollinsworth (11)

Natalie Bishop (11)
Leah Agoncillo (11)
Regan Reed (10)
Eric Gwaltney (10)
Sydney Bartels (10)
Bryenna Walker (10)
Bennett Pina-White (9)
Wrestler Kyle Dickhaus (12) will be representing Team Missouri in the East-West All Star Dual meaning he is one of the top wrestlers in the state. Three EHS wrestlers, Kyle Dickhaus, Matt Gentry (12) and Brendan Carter (12) meddled at State. The 2016-2017 Eurekana Yearbook was featured in Herff-Jones' showcase book, a portfolio sent to hundreds of schools across the country. Both the Girls and Boys varsity basketball teams wrapped up their seasons with the boys falling to Francis Howell and the girls falling to Lafayette. EHS varsity girls basketball players Annika Herbert (10) and Kate Hillyer (9) made the Missouri Basketball Coaches Association Class five District four All-District team. Wrestler Becca Newton won first at the Fuji Jiu-Jitsu State Championships and Swimmer Lily Harrell (10) placed fifth in the girls 200-meter IM. Ally Weiss (12) placed second at State for diving. EHS varsity cheer won the Missouri Cheer Coaches Association Sportsmanship award. Eureka Golden Line placed sixth in the nation for Large Varsity Jazz and eighth in the nation for Large Varsity Poms. Both EHS Choir treble groups received "one" ratings and both mixed groups received "two" ratings, March 6.
Care: Success in academics, activities and athletics continue to put EHS on map. EHS students set the bar for their peers and the success in their passions reflects positively on the Eureka community. Congratulate these students when passing them in the halls!
National
Know: A nor'easter ravaged the east coast, March 2.
Inform: The nor'easter a storm along the east coast with winds from the northeast and the second of the year for the Atlantic coast became a "bomb cyclone." A bomb cyclone occurs when the storm's pressure falls to 24 millibars in less than 24 hours which strengthens the storm. The storm crossed one in every four Americans, totalling to 80 million people. With winds upwards of 50 mph, up to four feet of snowfall in New York and inches of rain in New England, the storm took a toll along the 2,500 miles of coast. At least nine people have died because of the storm. Upwards of 4,000 flights have been cancelled. Additionally, another winter storm is on the way for the Northeast.
Care: The cleanup and reparation after a major natural disaster can take weeks, months and–in some cases–even years. The most recent nor'easter delayed police, destroyed trees and caused up to two million homes and businesses to lose power. With another natural disaster on the way, those in the Northeast battle to stay safe and recover from the damages. Eureka is no stranger to natural disasters facing two hundred-year floods in less than two years and avoiding another last week.
International
Know: A 10-member South Korean delegation will be visiting North Korea, March 5.
Inform: The delegation meeting will be an effort toward both inter-Korean peace and peace between North Korea and the United States. The South Korean delegates will later travel to the U.S. to brief the Trump administration on the talks. President Donald Trump mentioned the peace talks during the Gridiron Club Dinner saying that North Korea must "denuke" in order to continue the peace efforts, March 3. Last month, North Korea cancelled out of a meeting with Vice President Mike Pence. A phone call between Trump and South Korean President Moon Jae-in confirmed that both sides have goals of denuclearization in North Korea. North Korea has stated that they have no intentions of denuclearizing.
Care: The delegation meeting is crucial to the future of both inter-Korean relations and relations between North Korea and the U.S. The relationship between the United States and North Korea has been rocky. The tone of Trump's Twitter feed toward North Korea and Supreme Leader Kim Jong-un in particular do not necessarily set the U.S. up for success in North Korean peace talks. At a time where any little mishap can cause a downward spiral, all parties involved must be cautious while trying to achieve peace. Crisis can escalate quickly if even just one small thing is said or happens and the U.S. can find themselves deep in an international conflict.
Leave a Comment
About the Contributors
Ethan Fine, Editor-in-Chief
This is Ethan's seventh semester on the News Production staff. In his free time, he enjoys taking photos, going to concerts and hanging out with his friends....
Audrey Nettles, Eurekana yearbook staff
This is Nettles third semester on staff where she serves as a regular staffer. Word that describes her: scrambled. Conversation she wants to have with...