Student recognition, an exposing autobiography and Syrian airstrikes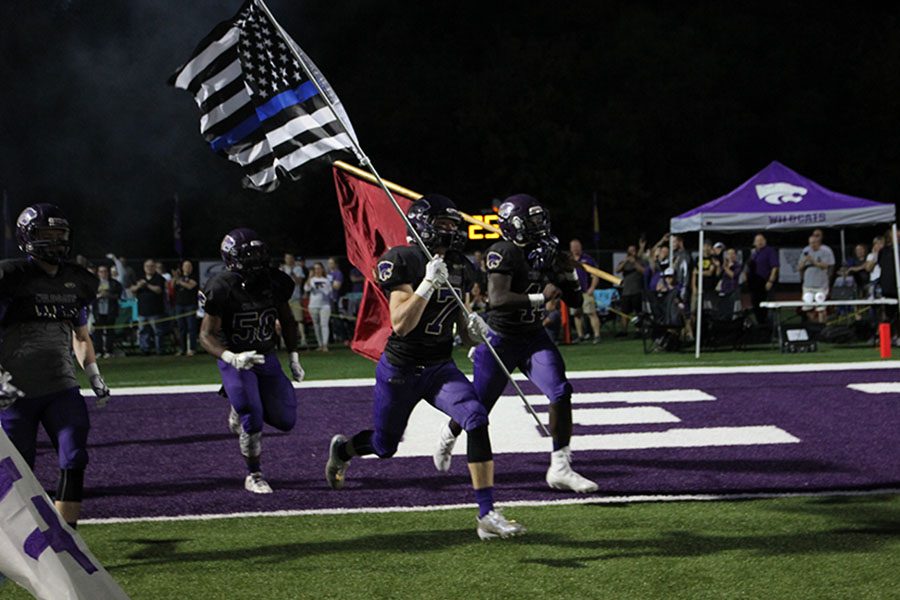 Local
Know: Eureka students continue to be recognized and honored for their academics and athletics.
Inform: The St. Louis Post Dispatch named Adam Fuqua (12) as their Scholar Athlete. Fuqua plays both baseball and football for EHS. His other honors include…
Football
both the 2016 and 2017 Football First Team All-Conference teams

All-District

second Team All-Metro.
Baseball
2018 Baseball STL Today Athlete of the Week
He maintains a 4.14 GPA. Fuqua signed with West Point, April 9.
The news organization has yet to publish this year's winners but readers can take a look at last year's.
Two others were runners up for the Post Dispatch Scholar Athlete
Macy Highfill (12) who plays volleyball and Tanner Luedtke (12) who plays football and track.
EHS winter guard placed first in their division and second overall at the state competition, April 7. Members include…
Jamie May

Raegan Holland

Amanda Rawls

Lauryn Hall

Alysha Leonard

Amanda Schulz

Sean Walsh

Amanda Royer

Morgan Hurst

Bridget Whalen

Sarah Lawson
Care: The success of EHS students puts Eureka on the map as a force to be reckoned with. Congratulations to all.
National
Know: Former FBI Director James Comey and President Trump engaged in a verbal war over Comey's new book "A Higher Loyalty," April 15.
Inform: Comey's book is set to be released, April 17. Copies of the book have been obtained by news organizations prompting President Trump to lash back at Comey. In the book, Comey calls Trump "unethical" and "untethered to the truth." Trump fired Comey in May 2017, temporarily ending the FBI's investigation into the accusation that Trump administrators communicated with Russian officials and interfered with the 2016 Presidential Election. The President called for Comey to be jailed, saying Comey has lied to Congress and gave up classified information. Trump also went on to call Comey a "slimeball" in a series of Tweets directed at Comey.
Care: Trump has knocked down a series of people and things that have stood in his way throughout his presidency, being the first of many unprecedented events. The firing of Comey was one of many. The President claims that Russia was "on his mind" when he fired Comey. Trump supporters say the President's actions are to keep the country in line and very much needed, while Trump opponents think the President's actions are unnecessary.
International
Know: Three countries launched an airstrike on Syria, April 14.
Inform: The United States, Britain and France attacked Syria to "punish" Syrian President Bashar al-Assad for a chemical attack on the people of Syria last week. The chemical attack killed at least 40. Trump responded to the airstrike on Twitter, saying it was "perfectly executed" and "mission accomplished." Trump's "mission accomplished" remark caused some backlash, although the President also took to Twitter to dismiss this. Syrians have been displaced as results of both al-Assad's attack and the recent airstrikes. The chemical attack and airstrikes come a little more than a year after both al-Assad ordered a chemical attack on the people of Syria and Trump's response with airstrikes, April 2017. The 2017 airstrike targeted aircrafts used for chemical attacks, although the damage was not enough to put Syria out of commission, as another chemical attack would happen, April 7.
Care: The Syrian refugee crisis began as a result of the Syrian Civil War in 2011. There are more than 5.5 million Syrian refugees to date. Between dodging Syrian-led attacks as well as attacks from other countries, more than 6.1 million Syrians have been displaced, and over 13 million are in need. Roughly 70 percent of all Syrians live below the poverty line. News broke that the U.S. had only accepted 11 Syrian refugees in 2018, while during the same period in 2016, 790 were accepted. By targeting Syria, the U.S. has found itself in another battle with Russia. Russia is an ally of Syria and supports President Bashar al-Assad. Russian officials have called the attacks "treacherous" and "insane."
Leave a Comment
About the Contributors
Ethan Fine, Editor-in-Chief
This is Ethan's seventh semester on the News Production staff. In his free time, he enjoys taking photos, going to concerts and hanging out with his friends....
Regan Peterson, Managing Editor
This is Peterson's seventh semester on staff where she serves as the Managing Editor for both the Eurekana Yearbook and EHS-hub. Peterson enjoys sleeping,...