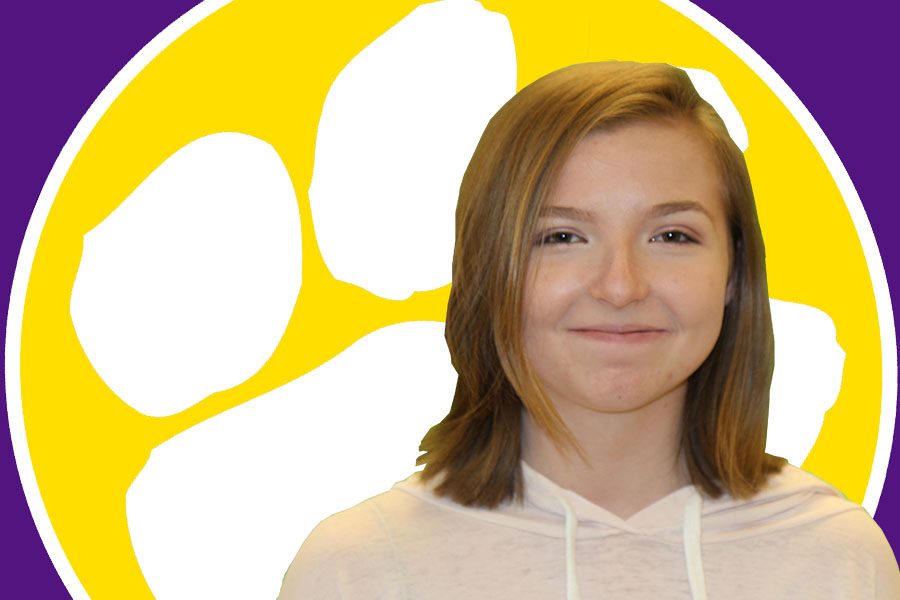 This is Lily's fourth semester on Yearbook Production. She takes photos of staff events.
Her hobbies include petting dogs, drawing a lot and taking photos. She also works at Subway.
Throughout the year Lily takes many pictures for the yearbook. She has 74 GB of photos and videos on her laptop.
Her message to the world is to spread tolerance.
Lily Dean, Eurekana yearbook staff
Feb 04, 2019

Glory of Missouri, border troops and a base in Iraq

(Media)

Aug 28, 2018
Aug 21, 2018

A wild parking lot

(Media)

May 18, 2018

Senior goodbyes, boys varsity volleyball district champions and a community fundraiser

(Media)

May 17, 2018

A bridge to the future

(Media)

May 11, 2018

Golf sectionals, rugby state and senior awards night

(Media)

May 03, 2018

EBN | Up Close and Personal | Hayley Krey

(Media)

Apr 18, 2018

Cooking up a connection

(Media)

Apr 13, 2018

First ever military signing, successful Wildcats and Onstage! spring show

(Media)

Mar 23, 2018

2018 Club Group Shot Day schedule

(Media)

Mar 08, 2018

StuCo leadership breakfast, close knit and crochet and a boys varsity lacrosse triumph

(Media)

Mar 02, 2018

Golden Line state, Teacher of the Year and etc…'s "Deathtrap"

(Media)

Feb 13, 2018

Taking on the next stage

(Media)

Feb 02, 2018

A JV boys basketball win, wrestling senior night and a French field trip

(Media)

Jan 19, 2018

Boys varsity basketball win, Golden Line performance and creative classes

(Media)

Jan 03, 2018

Up Close and personal: Marshall Clayton

(Media)

Dec 15, 2017

Holiday cheer and victorious cats

(Media)

Dec 04, 2017

Soccer expansion in St. Louis, CVS Pharmacy convergence and protests in Honduras

(Media)

Nov 10, 2017

Golden Line halftime performance, etc…'s "Wedding Singer" dress rehearsal and band's craft fair

(Media)

Nov 09, 2017

EBN | Dads and daughters

(Media)

Nov 01, 2017

2017 Pep Assembly

(Media)

Oct 29, 2017

Health and Wellness Day relaxation, a varsity field hockey loss and an emotional assembly

(Media)

Oct 20, 2017

An ASL field trip, one step closer to state for varsity field hockey and boys varsity soccer defeats Oakville

(Media)

Oct 13, 2017
Sep 29, 2017

Cardinals game choir, tough losses and a Monday mercy rule

(Media)

Sep 22, 2017

Superintendent selfies, community car wash and saving lives

(Media)

Sep 20, 2017

Pulling it together, girls varsity volleyball tackles the Tigers

(Media)

Sep 10, 2017

Photos of the Week: Sept. 1-7

(Media)

Sep 05, 2017

Photos of the Week: Aug. 25-31

(Media)

Aug 22, 2017

Here comes the sun

(Media)

Aug 18, 2017

Photos of the Week | summer

(Media)

May 19, 2017

Photos of the Week: May 15-19

(Media)

Mar 03, 2017

Photos of the week: Feb. 27-March 3

(Media)

Jan 27, 2017

Photos of the week Jan. 23-27

(Media)

Jan 25, 2017

Photos of the week: Jan. 9-20

(Media)

Dec 16, 2016

Photos of the week: Dec. 12-Dec. 16

(Media)

Dec 02, 2016

Student Health and Wellness Day, Nov. 21

(Media)

Nov 28, 2016

EBN: The big picture

(Media)

Oct 14, 2016

Girl's volleyball wins over Mehlville on senior night

(Media)

Sep 30, 2016

Photos of the week: Sept. 23-30

(Media)

Sep 23, 2016

Photos of the week: Sept. 19-23

(Media)

Sep 09, 2016

Photos of the week: Sept. 5- 9

(Media)

Sep 06, 2016

Photos of the week: Aug. 29-Sept. 2

(Media)

Mar 10, 2016

Photos of the week: March 7-10

(Media)

Feb 12, 2016

Photos of the week: Feb. 8-12

(Media)

Dec 14, 2015

All hands on deck

(Media)

Dec 04, 2015

Photos of the week: Nov. 30- Dec. 4

(Media)

Nov 13, 2015

Photos of the week: Nov. 9-13

(Media)

Nov 06, 2015

Photos of the week: Nov. 2-6

(Media)

Oct 15, 2015

Holding high standards

(Media)

Sep 10, 2015

Red, white, and blue all over

(Media)

Dec 12, 2014

Photos of the Week: Dec. 8-12

(Media)