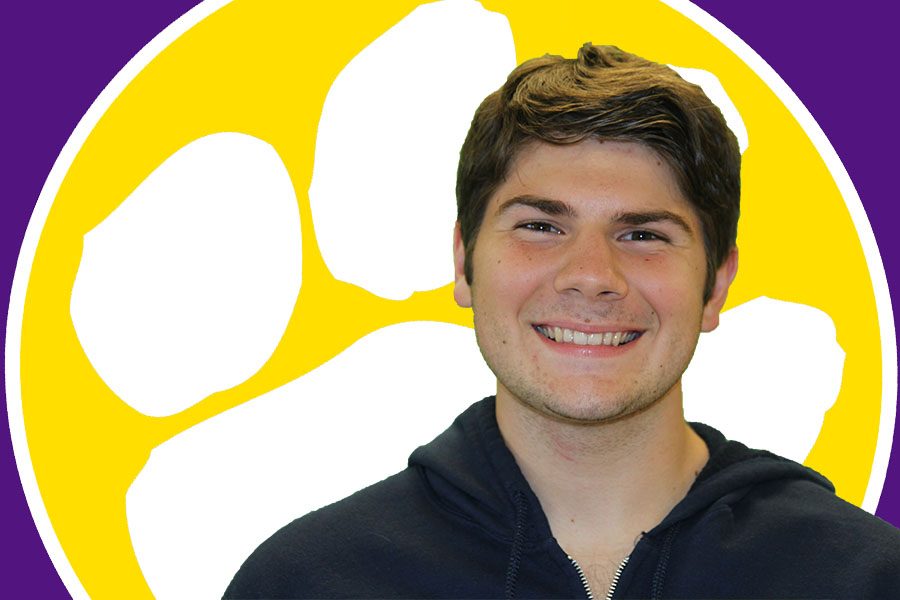 This is Nick's third semester on the EHS hub staff. He is the Digital Media Editor-in-chief. You can follow him on twitter @nweaverEHS_hub.
He enjoys reading, writing, watching movies, and hanging out with his friends. Nick is an FCA Leader, Renaissance Executive, NHS Publicist, Senior Class President, and he participates in Speech and Debate.
Before Nick goes to college he plans to travel to Scandinavia and spend some time in Norway. He believes that the world needs to get more involved with politics and hold government leaders accountable. Nick's dream job is to be a Disney Imagineer.
Nick Weaver, Eureka Broadcast News editor-in-chief
May 24, 2017

EBN: Portrait of a wildcat

(Media)

May 17, 2017

2017 senior column: We are wildcats: Nick Weaver

(Story)

May 15, 2017

A leader's look: Farewell

(Media)

May 04, 2017

EBN: Rising tides

(Story/Media)

Apr 26, 2017

Opinions: From the desk: Brotherhood

(Story)

Apr 12, 2017

Opinions: From the desk: A city vision

(Story)

Apr 04, 2017
Apr 03, 2017

Photos of the week: March 27-31

(Media)

Mar 31, 2017

Within reach

(Story/Media)

Mar 29, 2017

Opinions: From the desk: Arriving at my destination

(Story)

Mar 08, 2017

Opinions: From the desk: Magical moments

(Story)

Mar 06, 2017

EBN: 2017 StuCo Executive Speeches

(Media)

Mar 03, 2017

EBN: Standing out

(Media)

Mar 02, 2017
Feb 15, 2017

EBN: Ask and answered: Finding a match

(Media)

Feb 15, 2017

Opinions: From the desk: My why

(Story/Media)

Jan 26, 2017
Jan 20, 2017

The boys of Mr. EHS 2017

(Story/Media)

Jan 18, 2017

Opinions: From the desk: Pick it up

(Story/Media)

Jan 06, 2017

Enrollment day information

(Media)

Dec 20, 2016

2017 senior column: We are wildcats: Emily Grossnicklaus

(Media)

Dec 14, 2016

Opinions: From the desk: A long time ago

(Story)

Nov 30, 2016

Opinions: From the desk: A founding flaw

(Story)

Nov 29, 2016

Reaching out and standing still

(Media)

Nov 28, 2016

EBN: The big picture

(Media)

Nov 16, 2016

Opinions: From the desk: Because of the brave

(Story)

Nov 03, 2016

EBN: Biking against bullying

(Media)

Nov 02, 2016

Opinions: From the desk: Press rally

(Media)

Oct 21, 2016

EBN: Rise and shine

(Media)

Oct 19, 2016

Opinions: From the desk: We the press

(Story)

Oct 10, 2016

EBN: Health and wellness conference

(Media)

Oct 05, 2016

Opinions: From the desk: One more plaque

(Story)

Sep 30, 2016

Live-streaming the Pep Assembly

(Story)

Sep 30, 2016
Sep 28, 2016

EBN: Seeing double

(Media)

Sep 21, 2016

Opinions: From the desk: Let's talk

(Story)

Sep 13, 2016

EBN: The next level

(Media)

Sep 12, 2016

A leader's look: FCA

(Story)

Sep 07, 2016

Opinions: From the desk: Something in the air

(Story)

Sep 06, 2016
Jul 02, 2016

Media Now and forever

(Story)

Jun 29, 2016

Media Now 2016: Newly popped

(Media)

Jun 28, 2016

Media Now 2016: Powerful people

(Media)

May 25, 2016
Apr 25, 2016

Wildcast: Episode 14

(Story)

Apr 14, 2016

EBN: In with the new

(Media)

Apr 11, 2016

Wildcast: Episode 13

(Story)

Apr 08, 2016

Photos of the week: April 4-8

(Media)

Apr 04, 2016

EBN: In search of our leading man

(Media)

Mar 28, 2016

Wildcast: Episode 12

(Story)

Mar 22, 2016

EBN: Out with the old

(Media)

Mar 07, 2016

EBN: StuCo executive speeches

(Media)

Mar 01, 2016

EBN: A day in the life

(Media)

Feb 18, 2016
Feb 08, 2016

Wildcast: Episode 11

(Story)

Feb 03, 2016

Wildcast: Taking the crown

(Story)

Jan 27, 2016

EBN: Finding a leading man

(Media)

Jan 25, 2016

Wildcast: Episode 10

(Story)

Jan 13, 2016
Jan 10, 2016

EBN: 2015 football highlight film

(Media)

Jan 04, 2016

EBN: Damage control

(Media)

Dec 30, 2015

EBN: The flood of '15

(Media)

Dec 07, 2015

Wildcast: Episode 9

(Story)

Nov 23, 2015

Wildcast: Episode 8

(Story)

Nov 19, 2015
Nov 11, 2015

EBN: A beast of a show

(Media)

Nov 09, 2015

EBN: A cheerful moment

(Media)

Nov 09, 2015

Wildcast: Episode 7

(Story)

Nov 05, 2015

EBN: Climbing the ladder to success

(Media)

Oct 28, 2015

EBN: The show goes on

(Media)

Oct 26, 2015

Wildcast: Episode 6

(Story)

Oct 19, 2015

EBN: Striking a pose

(Media)

Oct 15, 2015

EBN: Tackling trash

(Media)

Oct 14, 2015

EBN: A sign of love

(Media)

Oct 12, 2015

Wildcast: Episode 5

(Media)

Oct 09, 2015
Oct 07, 2015

EBN: Seniors take the win… again

(Media)

Oct 02, 2015

Follow the Hub for pep assembly coverage

(Story)

Oct 02, 2015

EBN: Leaving a mark

(Media)

Sep 28, 2015

Wildcast: Episode 4

(Media)

Sep 14, 2015

Wildcast: Episode 3

(Media)

Aug 24, 2015

Wildcast: Episode 2

(Media)

Aug 21, 2015

Ask and answered: Follow the yellow brick road

(Media)

May 27, 2015

EBN: We play while you're away

(Media)

May 07, 2015

Ask and answered: Coach Shelton leaves

(Media)

May 04, 2015

2015 Aurasma Editors' Note

(Media)

Apr 29, 2015

Wildcast: Episode 1

(Media)

Apr 27, 2015

EBN: Give Renaissance feedback

(Media)

Apr 23, 2015

How to: Add title bar

(Media)

Apr 21, 2015

EBN: A union of ruggers

(Media)

Apr 16, 2015

Library access limited during testing

(Story)

Apr 16, 2015

Renaissance Commercial: Knowledge is power

(Media)

Apr 11, 2015

EBN: Think before taking a drink

(Media)

Mar 25, 2015

Ask and answered: Coach Shelton returns

(Media)

Mar 09, 2015

StuCo Executive Board candidates 2015

(Media)

Mar 06, 2015

Asked and answered: Coach Cleveland retiring

(Media)

Feb 06, 2015

Drug Free PSA: Rise above

(Media)