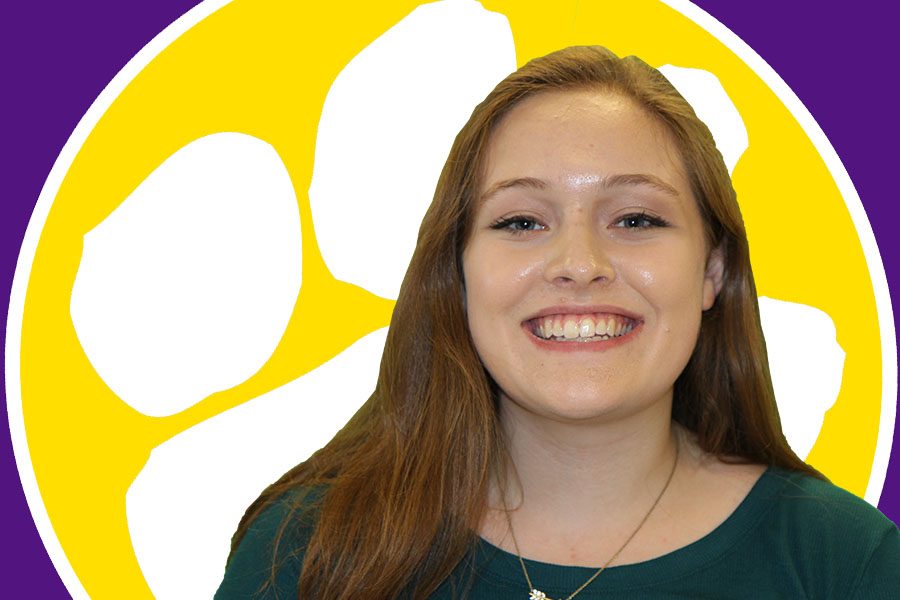 This is Sarah's fourth semester on Yearbook Production staff. She is a co-production editor with Becca Newton.
You can follow her on Twitter @smyersEHS_hub. Her hobbies include writing, taking photos and playing the guitar and piano. Sarah is involved in NHS, E!Crew, Speech & Debate, Vegan/Environmental Club and GSA. A fun fact about Sarah is that she can play five instruments.
The conversation she wants to have with the world would be about equality and acceptance of all people. Her dream job would be a photojournalist while traveling the world.
Sarah Myers, Eurekana yearbook staff co-editor
May 25, 2018

So long class of 2018

(Media)

Apr 26, 2018

Glory of Missouri Award Recipients

(Story)

Apr 20, 2018

Prom, learning new culture and an intro to the future

(Media)

Apr 18, 2018

Cooking up a connection

(Media)

Apr 09, 2018

A house fire, Facebook breach and a chemical attack

(Story)

Apr 06, 2018

NHS Easter gifts, tough games, and winter guard practice

(Media)

Mar 19, 2018

Student walkout, a collapsed bridge and the Russian election

(Story)

Feb 26, 2018

Governor indictment, Spring Training and China abolishing presidential term limits

(Story)

Feb 16, 2018

Winter Formal, French field trip to St. Louis Art Museum and a JV girls basketball victory

(Media)

Feb 12, 2018

Diaper drive, Grand Canyon helicopter crash and Olympics update

(Story/Media)

Jan 29, 2018

Sexual misconduct, school shooting in Kentucky and Afghanistan suicide bombing

(Story)

Jan 22, 2018

Car crash, government shutdown and Women's March

(Story)

Jan 12, 2018

Curriculum night, math classes and a poetry slam

(Media)

Jan 08, 2018

Weather changes, Trump book and Iran ban of teaching English

(Story)

Jan 05, 2018

Winter break, hockey ties, girls swim and girls varsity basketball win

(Media)

Dec 13, 2017

Style Hijack | Sarah Myers

(Media)

Dec 11, 2017

Final exams, California wildfires and potential U.S. embassy in Jerusalem

(Story)

Dec 04, 2017

Soccer expansion in St. Louis, CVS Pharmacy convergence and protests in Honduras

(Story)

Nov 27, 2017

Black Friday protests, Tax Reform Bill and political unrest in Zimbabwe

(Story)

Nov 20, 2017

Sexual harassment, a warehouse fire and the Bubonic plague

(Story)

Nov 13, 2017

Proposition P, JFK files and the deadliest earthquake of 2017

(Story)

Nov 06, 2017

State championships, a church shooting and arrests in Saudi Arabia

(Story)

Nov 03, 2017

Girls varsity cross country moves onto state, French Club Halloween parties and Puerto Rico relief

(Media)

Nov 02, 2017

Canned Food Drive standings Day 3

(Story)

Oct 29, 2017

Health and Wellness Day relaxation, a varsity field hockey loss and an emotional assembly

(Media)

Oct 23, 2017

Gun violence, Gold Star families and tropical storms

(Story)

Oct 22, 2017

Student Wellness Day Conference Schedule

(Story)

Oct 20, 2017

An ASL field trip, one step closer to state for varsity field hockey and boys varsity soccer defeats Oakville

(Media)

Oct 17, 2017
Oct 16, 2017

Health and Wellness Day, California wildfires and continued threats from North Korea

(Story)

Oct 09, 2017

Senate candidate, changes to The Affordable Care Act and the 2017 Nobel Peace Prize winner

(Story)

Oct 06, 2017

Homecoming Week, Friday Night Lights and community spirit

(Media)

Oct 05, 2017

Spirit Week Day 4 | Making a comeback

(Story)

Oct 04, 2017

Spirit Week Day 3 | Halfway there

(Story)

Oct 03, 2017

Spirit Week Day 2 | Ending the tie

(Story)

Oct 03, 2017

Spirit Week Day 1 | Down but not out

(Story)

Sep 29, 2017

How to help hurricane survivors

(Story)

Sep 28, 2017

Don't call 1-800-Red-Cross

(Story)

Sep 27, 2017

Cutting it close, boys varsity soccer takes on Lindbergh

(Media)

Sep 25, 2017

Protests continue while athletes kneel and new travel ban takes affect

(Story)

Sep 21, 2017

Sophomore practice A.C.T.

(Story)

Sep 18, 2017

EBN | Shifting the focus

(Media)

Sep 12, 2017

EBN | Grab and go

(Media)

May 12, 2017

Photos of the Week: May 8-12

(Media)

Dec 02, 2016

Student Health and Wellness Day, Nov. 21

(Media)

Oct 07, 2016

Photos of the week: Oct. 3-7

(Media)

Oct 05, 2016

Opinions: From the desk: One more plaque

(Media)

Sep 30, 2016

Photos of the week: Sept. 23-30

(Media)

Sep 09, 2016

Photos of the week: Sept. 5- 9

(Media)

Feb 12, 2016

Photos of the week: Feb. 8-12

(Media)

Feb 04, 2016

Climbing the pyramid

(Media)

Dec 01, 2015

Pointed in the right direction

(Media)

Oct 16, 2015

Photos of the week: Oct. 12-16

(Media)